Gabala Music Festival to return with unforgettable sounds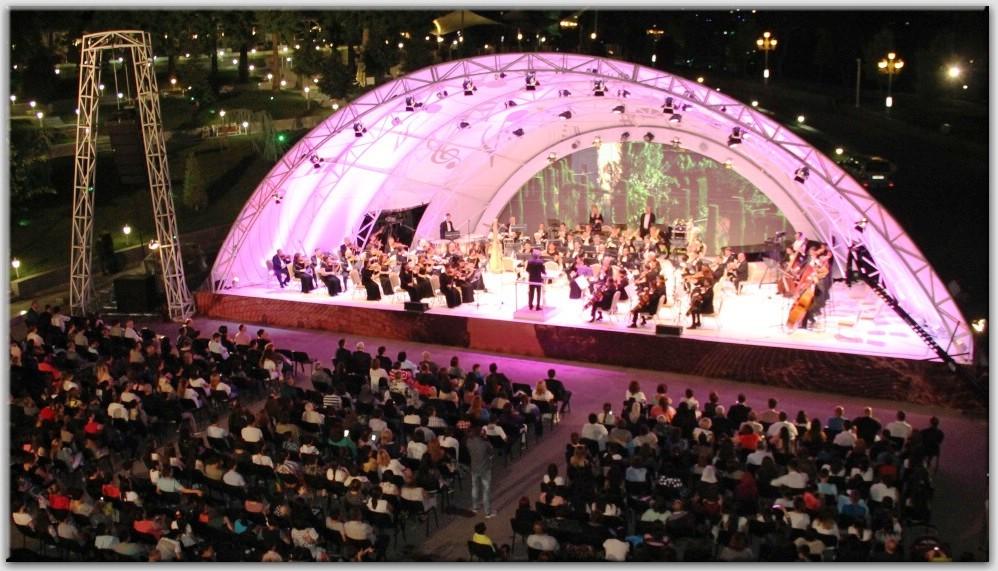 By Naila Huseynli
Gabala International Music Festival, an annual festival of classical music held every summer beginning in 2009, is scheduled for July 30-August 8 this year.
The Festival traditionally held in Gabala, a majestic part of Azerbaijan, has already turned into a modern pilgrimage, attracting visitors from all over the world to celebrate the world music and culture.
Famous musicians from different countries, world-known symphonic and philharmonic orchestras performed at the festival in the open air.
The festival is organized with the support of Heydar Aliyev Foundation & Ministry of Culture and Tourism of Azerbaijan. The music festival featured international contest of young pianists, concerts of Mugham, as well classic, chamber, jazz and vocal music. Prominent musicians from different countries, world-known symphonic and philharmonic orchestras performed in open air festival.
This year's program includes the Camera Concert and the symphonic orchestra of the students of the Baku Music Academy named after Uzeyir Hajibeyli.
People's artist Farhad Badalbeyli (piano), Olga Yermakova (piano), Dmitri Yablonski (violoncello), Janna Gandelman (violin), Shukur Samadov (clarinet), Annelle Grigory (violin), Oleg Khudyakov (piano), Andrey Varlamov (oboe), Afanasi Stupakov-Konev (violin), Chinara Azimova (soprano), Rafiga Guluzade (piano) and Alexander Doronin (piano) will perform at camera concerts on July 31.
People's artist Murad Adigozalzadeh and Yegana Akhundova will perform at the official opening concert in the evening. Honored Artist Fuad Ibrahimov will lead the orchestra.
On August 1, a concert of chamber music and Cuban septet will be with the participation of Azerbaijani and foreign musicians. On the next day, at the "Multipiano" music night, Thomas Lev, Berenika Qliksman, Nimrod Natanel Mayri-Haftel, Almak Seqal, Ayal-Peleq Pelch, mugham singers Abgul Mirzaliyev, Kamila Nabiyeva, Sabina Arabli, Sahib Pashazade (tar), Togrul Asadullayev (kamancha), Emin Jabrailov (drum), Chinara Heyderova (canon), Azad Alimammadov (balaban), Shafa Kerimov (ud) will perform.
The concerts of the Baku Chamber Orchestra, the Budapest Gypsies Band and the "Qaytagı" Ensemble are scheduled for August 3, while the Jerusalem Symphony Orchestra will give a concert on August 4. The orchestra will be conducted by Dmitry Yablonsky. Eduard Vulphson (violin), Saida Tagizade (piano) and Alexei Miltix will perform at the concert.
Israeli musicians will perform in Shaki as a part of the festival on August 5. On the same day, Gabala will host a concert dedicated to the 100th anniversary of Gara Garayev.
On August 6, Mikhail Khokhlov will conduct the Jerusalem Symphony Orchestra. Oksana Yablonskaya and Togrul Huseynli will perform in the piano.
On the last day of the festival, on August 7, a concert will be held with participation of Azerbaijani musicians and the Jerusalem Symphony Orchestra will perform at the closing ceremony.