6 December 2017 17:03 (UTC+04:00)
2 533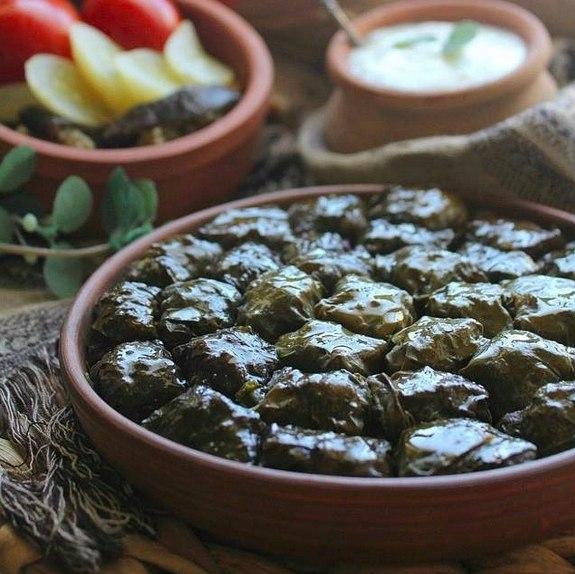 By Aygul Salmanova
Dolma, the most delicious and unique representative of the rich Azerbaijani cuisine, appreciated by the connoisseurs of delicious food, was recognized as the Intangible Cultural Heritage of Humanity by UNESCO.
"After two years of hard work, Dolma has been recognized as the Intangible Cultural Heritage of Humanity by UNESCO. Congratulations Azerbaijan," Azerbaijani Permanent Delegate to UNESCO tweeted on December 6.
The decision was made at the 12th session of the Intergovernmental Committee for the Safeguarding of Intangible Cultural Heritage taking place at the island's International Convention Center from December 4-9.
The name of this ancient national dish originates with the pure Azerbaijani verb doldurmag (to stuff) as it means various leaves, vegetables and fruits stuffed with minced meat.
There are more than 25 varieties of this dish, including vitamin full vegetables. In spring, when many fresh grape leaves appear - the main product for making dolma. Summer brings aubergines, tomatoes, peppers and cucumbers to stuff. In autumn dolma is made out of cabbage leaves, apple and quince. During the cold winters, it is made of preserved grape leaves.
Dolmas are traditionally stuffed with ground lamb and/or beef, rice, onions, and herbs.
Stuffed vine leaves (yarpag dolmasi) are one of the most popular types of dolma. Using vine leaves in spring time is very healthy because they contain 70-80mg per 100g of vitamin C, while at this time of a year potatoes contain only 6-8mg per 100g of the vitamin.
In different regions of Azerbaijan, dolma is also made of the leaves of the lime tree, quince, beech tree, sorrel, bean leaves, penny cress and other plants.
In Azerbaijan dolma is iconic, you can meet it at every table not only during the traditional holiday, but also on ordinary days. Additionally, the country annually holds International Dolma Festival where various types if this incredible dish are presented to local and foreign t\visitors.
Azerbaijan is an amazing land where various beauties are collected: from a rich history and fascinating nature to a tasty and unforgettable cuisine that does not leave anyone indifferent.
Of note, the UNESCO intangible cultural heritage list includes the Novruz holiday, Azerbaijani mugham, art of Azerbaijani Ashiq, craftsmanship and performance art of the Tar, traditional art and symbolism of Kelaghayi, copper craftsmanship of Lahij, Azerbaijani carpet, and flatbread making and sharing culture: lavash, katyrma, jupka, yufka.
--
Follow us on Twitter @AzerNewsAz
Category News