Gov't works to stop artificial increase in prices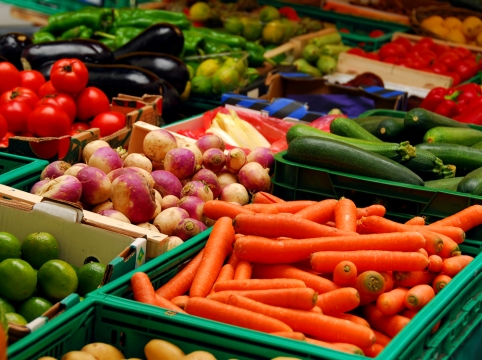 By Nigar Orujova
The government of Azerbaijan is taking measures to prevent the artificial increase in prices after the second devaluation of the manat in a year. The Agriculture Ministry jointly with the Economy and Industry Ministry will deal with the artificial price rise.
The manat that lost 34 percent of its price in February, lost 48 percent in value on December 21. The official exchange rate of US dollar and euro to Azerbaijani manat was set at 1.554 manats and 1.704 manats, respectively on December 24.
The artificial increase in prices is a usual problem in the country before such holidays as the New Year and Novruz Holiday. However, this year the increase is doubled by the manat's devaluation.
The increase in prices of imported products is inevitable, but the artificial price rise is not the case. A number of markets have already been fined after they put up high prices on all their products.
Agriculture Minister Heydar Asadov said his ministry plans to increase the number of agricultural fairs organized in the country.
"By increasing the number of trade fairs, the Ministry will provide direct access of agricultural products to the market to prevent artificial price rise by intermediary dealers," he said.
Moreover, universal agricultural centers are expected to open in the country in the first quarter of 2016, he added. The centers will include various laboratories: agrochemical, seed growing and others.
"In the centers, farmers will be able to receive counseling services. In addition, inspection of agricultural products will be carried out to provide food security," said Asadov.
About 80 such centers will open their doors in Azerbaijan next year, the minister said.
The volume of domestic production in Azerbaijan has increased several times over the past few years, and the country has made progress in providing its food security.
As of early 2015 the country is self-sufficient in meat by 92.4 percent, eggs by 99.7 percent, milk and dairy products by 76.3 percent, grain by 60.6 percent, potatoes by 89.7 percent , melons by 100.4 percent, fruits by 120 percent, sugar by 170 percent, and vegetable oil by 72 percent.
The Agriculture Ministry also reported that Azerbaijan has enough grain reserves. This year, the country produced 2.9 million tons of grain, 1.7 million tons of which is wheat. Thus, the demand in grain is met by 70-80 percent at the expense of domestic production.
The high domestic supply means that there is no need in the price raise of agricultural products.
Population can also compare prices for agricultural products both retail and wholesale by visiting the website of the ministry (azagro.net).
__
Nigar Orujova is AzerNews' staff journalist. Follow her on Twitter: @o_nigar
Follow us on Twitter: @AzerNewsAz