Baku Metro, French company ink agreement on tunnels construction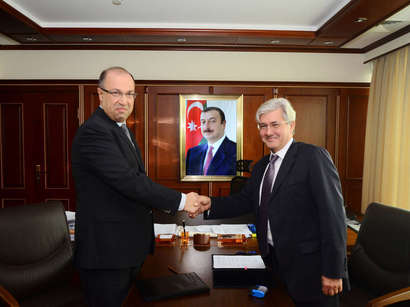 By Aynur Jafarova
Baku Metro CJSC and the French company Bouygues Travaux Publics, LLS have signed an agreement on construction of a new tunnel at "28 May" station in Azerbaijan.
The agreement was signed by Chairman of Baku Metro Zaur Huseynov and Executive Director of Bouygues Travaux Publics, LLS for International Relations Jean-Denys Arnal, Baku Metro told Trend Agency on October 16.
The project will be launched in near future and accomplished in 2016.
The Baku subway's red ("Hazi Aslanov" - "Icherisheher") and green lines ("Darnagul" - "Khatai") intersect at the "28 May" station, which is of great importance given the safety of train traffic. Separation of the two lines will also allow reducing the interval of train traffic.
After the construction of the tunnel, the traffic along two lines will become independent from each other: The trains moving from the "Hazi Aslanov" station to the "Icherisheher" station will move directly through the "28 May" station, while the trains moving from the "Darnagul" station will move in a separate tunnel and their terminus station will be "Khatai".
The subway network is developing rapidly in the Azerbaijani capital. With a length of thirty-five kilometers, Baku Metro has two lines and 23 stations.
The network is expected to get enlarged to 119 km with five lines and up to 76 stations by 2030. Right now, eight stations and two train depots are under construction.
Some subways are also expected to be opened in the most populated and developed cities of the country, including Sumgayit, Nakhchivan and Ganja.
The new stations of Baku Metro will be built based on the most modern technologies. They would be equipped with modern platforms, lobbies, escalators as well as new signaling and control systems.