Azerbaijan, U.S. to sign double taxation evasion agreement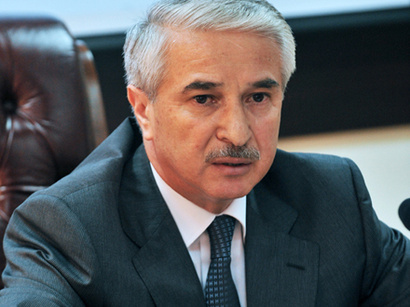 By Aynur Jafarova
Azerbaijan and the U.S. are planning to sign a double taxation evasion agreement in the near future, Azerbaijan's Deputy Taxes Minister Sahib Alakbarov said on May 26.
"The agreement will allow Azerbaijan's Taxes Ministry to actively combat those citizens receiving income in the U.S. but evade taxes. In other words, this agreement will enable Azerbaijan to put into practice an earlier agreement signed with the U.S. Internal Revenue Service (IRS)," he told journalists.
Azerbaijan and IRS reached an intergovernmental agreement on Foreign Account Tax Compliance Act (FATCA). Starting from July 1, 2014, the banks in the two countries should join the system of the IRS.
FATCA imposes a 30 percent withholding tax on the payments of the US source income paid to non-US financial institutions, unless they enter into an agreement with the US IRS and disclose information about their US account holders.
A similar collection is planned to be deducted from revenues of the sale of securities and even transit payments starting from 2017.
"The Azerbaijani government has created a special commission dealing with this issue headed by country's Deputy Minister of Taxes Natig Amirov. The government's adequate response to the issue raised by the U.S. side, allowed us to sign all necessary agreements in a short time," Alakbarov said.
A draft agreement on the exchange of information was agreed through diplomatic channels. The competent bodies of the two countries will mutually exchange data about the accounts of their residents.
"Until recently, the country's legislation had prohibited the exchange of such data," Alakbarov said. "But the Tax Code and some other legislative acts have already been amended to eliminate the ban imposed January 1, 2013. An agreement on the avoidance of double taxation must be concluded with the U.S. to pave the way for data exchange between the two countries,"
Alakbarov also added after signing the amendments to the Strasbourg Convention, the country had the opportunity to conclude such agreements with all the world's countries and intends to do this.
Azerbaijan was included on the IRS list of cooperating countries on May 16, and the deadline for its financial institutions' registration in the system of U.S. tax authority was extended until December 31, 2014.
The finalization of the intergovernmental agreement, the completion of all necessary domestic procedures, and signing the document will take place prior to December 31, 2014, after which the state structures of Azerbaijan and the U.S. will conclude an additional document to regulate the practical organization of information exchange, ensuring privacy, and other issues.