Cooperation between Kazakhstan & Azerbaijan reaches new level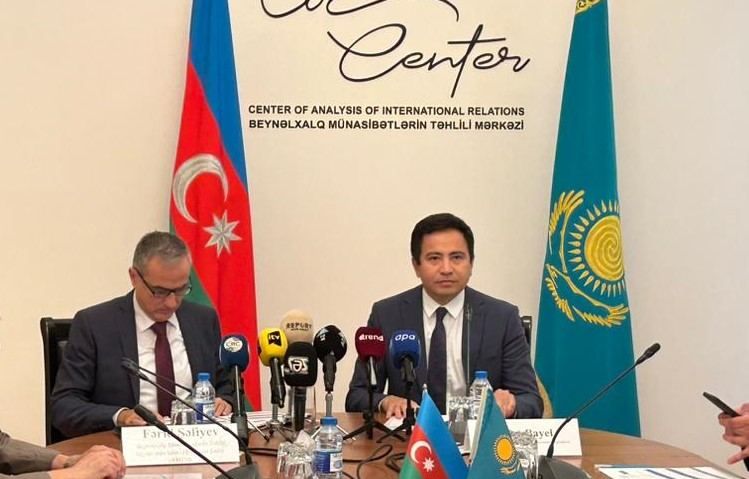 Cooperation between Kazakhstan and Azerbaijan has reached a new level, said Kazakh Ambassador to Azerbaijan Alim Bayel at a roundtable discussion on "Azerbaijan-Kazakhstan relations: regional cooperation", Azernews reports.
"All this is the result of mutual visits of the heads of our states. This trustful dialog at the highest level is the key to the dynamic relations between the two countries. Over the past four months, the Chairman of our Majlis, Prime Minister, Minister of Transportation, and Head of the Ministry of Emergency Situations have visited Azerbaijan from Kazakhstan," he noted.
The diplomat emphasized that the trade turnover between the two countries increased to $460 million in 2022, while in the first 6 months of 2023, this figure managed to increase to $300 million.
"This is a positive dynamic. We have also started exporting our oil through Azerbaijan via the Baku-Tbilisi-Ceyhan (BTC) pipeline. We hope that the volume of oil transported in this direction will reach several million tons in the near future," Bayel said.
The Kazakh Prime Minister Alikhan Smailov paid an official visit to Azerbaijan in June of 2023, during which 11 joint documents were signed. These documents included the establishment of a joint enterprise by the railways administrations of Kazakhstan, Azerbaijan, and Georgia, as well as the establishment of a joint venture for laying a fiber-optic line along the bottom of the Caspian Sea.
The two countries have also agreed to increase mutual flights from 32 to 42 per week. This is part of a larger effort to increase the bilateral trade and economic cooperation between the two countries. In January-May 2023, the commodity turnover between Kazakhstan and Azerbaijan rose by 50% compared to the same period in 2022.
The two countries have also signed a "Comprehensive Program on the Development of Cooperation between the Republic of Azerbaijan and the Republic of Kazakhstan for 2022-2026". This program is aimed at deepening the mutual relationship in multiple sectors, including transport, energy, trade, railway, aerospace, digital development, and others.
The countries are also focusing on leveraging the Middle Corridor and integrating the Zangazur multi-modal route into it. This is expected to contribute to increasing the bilateral trade turnover, which reached $194 million in the first half of 2022. The two countries are aiming for a trade turnover of $1 billion by the end of 2023.
The cooperation between Kazakhstan and Azerbaijan is expected to create important economic opportunities, enabling South Caucasian and Central Asian countries to benefit from China-Europe trade. The Middle Corridor is also expected to facilitate the development and deepening of Trans-Caspian cooperation.
The cooperation between Kazakhstan and Azerbaijan is expected to bring many benefits to the region, and the two countries are committed to deepening their relationship in multiple sectors.
---
Follow us on Twitter @AzerNewsAz