Health tourism developing rapidly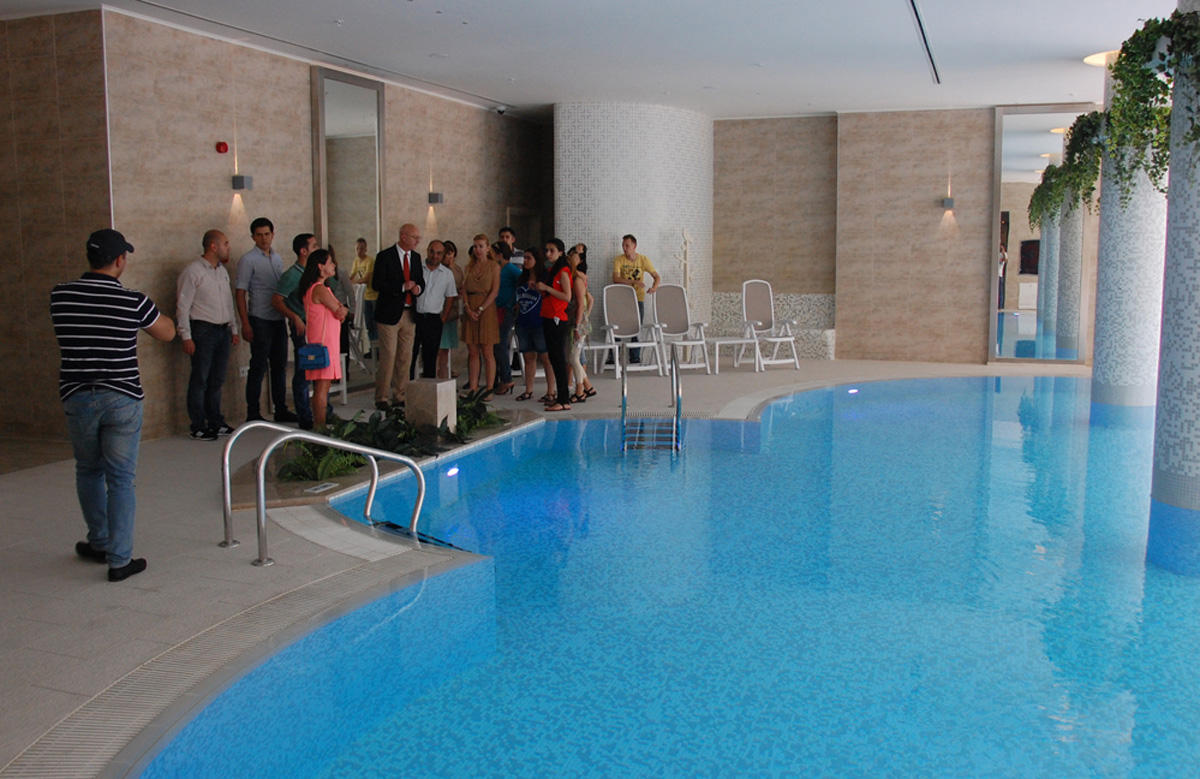 By Abdul Kerimkhanov
Azerbaijan has all chances to develop the health tourism due to its unique natural conditions.
Azerbaijan is rich with hot and mineral springs, thermal sulphur-hydrogen water sources and all types of mud volcanoes the mud of which can be used for medical purposes. There are around 300 mud volcanoes existing in Azerbaijan. The mud is used for the treatment of radiculitis, skin, cardiovascular, gynecological, urological diseases, and gastrointestinal disturbances. It is also widely used in the cosmetology.
Another exceptional medical product of Azerbaijan is its well-known healing "Naftalan" oil which is used for treatment of many diseases. Naftalan is a famous balneotherapeutic health resort well-known for its oil baths. It has been known since ancient times as an effective treatment for lesions of the musculoskeletal system. Naftalan oil is also used in the treatment of skin, urological, gynecological diseases. It relieves inflammation, reduces pain, improves blood circulation, speeds up metabolism. "The spring of black gold is the key to healing" - this is the slogan of Naftalan sanatoriums and health centers.
Moreover, Azerbaijan is also known for its salt mines used for asthma therapy. The most popular one is called "Duzdagh Cave" (salty mountain cave) located in Nakhchivan. There are over-and underground treatment premises located 300 meters below sea level. The cave is rich with sodium chloride ions which are are helpful in treatment of bronchial asthma, hay fever, bronchitis, rhinitis and other respiratory organs diseases.
One of the most famous thermal springs is the Istisu Hospital in Lankaran district, in Masalli. Today there are several hospitals on the territory of Istisu, which are designed for both budget and vip guests.
The first thing you notice when you arrive at Istisu is the smell of sulfur and steam that rolls over the ground. The water emerges from the depths of the earth, and its temperature exceeds 60 degrees.
The list of diseases for which they are treated here is very wide: rheumatism and its side effects (arthritis, polyarthritis, joint pain), skin diseases (psoriasis, dermatitis, neurodermatitis, fungal diseases, eczema), kidney and urethral diseases, radiculitis, prostate, diseases of the liver and biliary tract, gastrointestinal and female diseases, as well as female and male infertility.
Locals call this water "miraculous water" and claim that this is one answer to a hundred misfortunes.
The number of tourists visiting Azerbaijan for health and medical purposes will increase by 18 percent in 2019, the chairman of the Association for the Support of Medical and Thermal Tourism of Azerbaijan, President of the World Organization of Health Tourism Ruslan Guliyev told Trend on December 14.
He said that in January-November 2018, the number of tourists who visited Azerbaijan for health purposes increased by 30 percent compared to the same period last year.
"More than 45,000 tourists from over 70 countries visited the Recreational Center Naftalan alone," he noted. "This figure is expected to grow by the end of the year."
He added that among the tourists who visited this center, the Russian, Kazakh and Uzbek citizens constitute a majority.
In addition, he noted that in Azerbaijan there are conditions for the development of all major areas of health tourism, and the development of this sphere is an important issue for the country.
"Health tourism differs from other types as it is not seasonal, and here, unlike other types of tourism, the number of overnight stays of tourists is greater," he added. "Tourists stop for at least 12 days."
He also said that in Azerbaijan it is necessary to develop a map of health tourism, which will contribute to the development of this area. It is also necessary to expand the use of innovative solutions in the medical and health centers of the country, he noted.
"There is a need to apply innovations in the field of management, in structural innovations, technological as well as market innovations," said Guliyev.
He expressed confidence that the work in this direction will bring results in a short time.
The health tourism in Azerbaijan has been noticeably improved after the adoption of the state program on development of resorts in 2009-2018. To boost the sector, an association to support the health and thermal tourism in Azerbaijan was established, and modern medical and health centers were opened in Baku, Naftalan, Nakhchivan and other regions of the country.
The fresh mountain air, pure water, organic fruits of the Azerbaijani regions and beach recreation on the Caspian Sea Shore have already been known among many tourists. It would suffice to mention the world famous Istisu, Galaalti, Naftalan, Duzdag recreational resorts.
It should be noted that a global forum on health tourism will be held in Azerbaijan in February 2019.
More than 100 participants will participate in the event, in particular, heads of structures for health tourism of the participating countries, top managers of the medical and health sector of the countries, as well as authoritative scientists in this field.
As part of the event, which will be held for two days, a number of official meetings, plenary sessions, exhibitions, and also B2B meetings are planned.
Azerbaijan's potential in the therapeutic and health sector, real opportunities and prospects, startups, etc., will be demonstrated at the event. At the end, it is planned to organize an info-tour for the participants to the Naftalan, Istisu, Galaalti and Duzdag medical and health centers.
---
Abdul Kerimkhanov is AzerNews' staff journalist, follow him on Twitter: @AbdulKerim94
Follow us on Twitter @AzerNewsAz