Balakhani Industrial Park - successful example of public-private partnership in Azerbaijan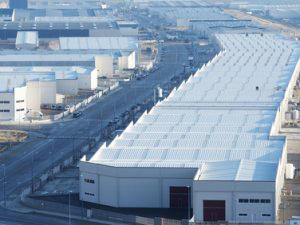 By Trend
The Balakhani Industrial Park is a successful example of partnership between the state and the private sector in Azerbaijan, an expert, economist Fuad Alizade said June 2 during a press tour to the industrial park organized by Azerbaijan's Economy Ministry.
In addition to media representatives, independent experts also took part in the event.
The participants of the press tour were also able to get acquainted with the improvement work carried out in Balakhani settlement by the Tamiz Shahar OJSC, visited the landfill for solid domestic waste disposal, as well as plants for sorting and incineration of solid domestic waste.
"The creation of industrial parks, such as the one in Balakhani, promotes industrial development in Azerbaijan, import substitution, prevents the outflow of foreign currency from the country," chairman of the Center for Economic and Social Development of Azerbaijan, expert Vugar Bayramov told reporters in Baku.
It is also important that the activity of industrial parks would promote the opening of new jobs, he added.
"We see how local producers set up production at minimal cost with the support of the state," Fuaz Alizade said. "This is a successful example of public-private partnership. The state supports private sector development. Everyone wins - companies develop, they pay taxes to the state budget, industrial production increases and new jobs are created."
Presently, the number of the Balakhani Industrial Park residents is 11. Five enterprises are already operating in the Park.
The Balakhani Industrial Park was created upon Azerbaijani President Ilham Aliyev's decree, dated December 28, 2011.