FIDE General Assembly meeting starts in Baku [ PHOTO ]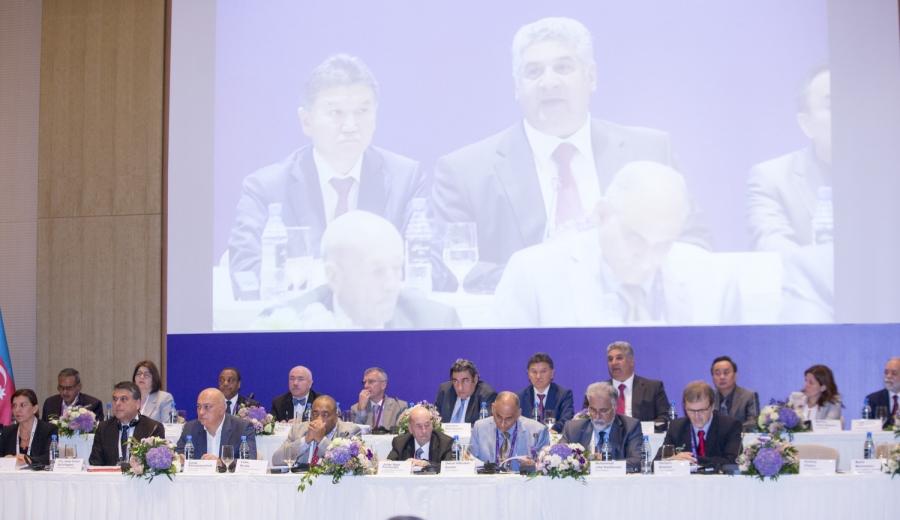 The FIDE General Assembly has started in Baku today within the framework of the 87th FIDE Congress. Opening remarks at the General Assembly were made by the Minister of Youth and Sport of Azerbaijan Azad Rahimov. Welcoming the visitors to the 42nd Chess Olympiad in Baku, Azad Rahimov said, "It has already become a tradition for Azerbaijan to host prestigious international sporting events. Last year, Baku hosted the inaugural European Games and the FIDE World Cup. Earlier this year the Azerbaijani capital played host to a Formula 1 Grand Prix event. Now Baku is hosting the Chess Olympiad. The fact that the Chess Olympiad is held in Baku is a major event, and we would like to thank FIDE for this confidence in us," he said.
FIDE President Kirsan Ilyumzhinov expressed his gratitude to the host country for such a high level of organization of the 42nd Chess Olympiad. "We can say with confidence that the Baku Chess Olympiad is the best ever organized Olympiad. I am very pleased to be here. I would like to thank the Government of Azerbaijan and everyone who has contributed to this event. It is known to all that chess is very popular in Azerbaijan. Azerbaijan is the first country in the world to have adopted a program on the development of chess. Chess is taught at schools," he said.
Then the national anthem of the Republic of Azerbaijan and the anthem of FIDE were played.

The 87th FIDE Congress will be completed on 13 September.