Alternative energy, lights on in Azerbaijan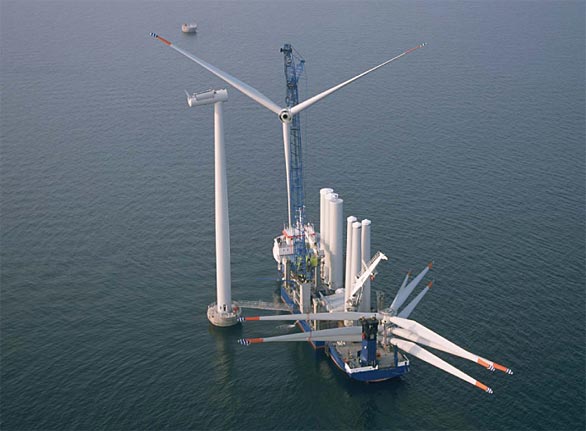 By Gulgiz Dadashova
Azerbaijan's energy export, buffeted by low oil prices, is bracing for new markets after the State Agency on Alternative and Renewable Energy Sources pledged opportunities to rise power generation.
Fortunately, oil and natural gas are not the sole energy exports of this South Caucasus nation. Azerbaijan's power export is yet "sunshine" in the sky of the country's oil-export-oriented economy, which has been hit by decreasing oil prices since mid 2014. Oil and natural gas exports account for around 95 percent of the country's total export revenues.
Azerbaijan, the second-largest oil producer in the former Soviet Union region after Russia and Kazakhstan, doubled its power export in March 2015 and is now exploring new markets.
Deputy Head of the Agency, Jamil Malikov believes the country may export power in more directions, in the future, hinting to more power output. Azerbaijan's current electricity export customers are Russia, Iran, Georgia and Turkey.
Hydropower is the most important renewable energy source in the country and is second to natural gas in terms of electricity generation. There is a lot of potential as well when it comes to developing wind energy, particularly in the southeast, around the Caspian coast.
Malikov told Trend that the use of large wind potential in the Caspian Sea will allow Azerbaijan to become a major power exporter in the future.
"The first step towards this will be the construction of wind farms on platforms in the Caspian Sea. In the future, Azerbaijan will be able to export this energy," he said.
Speaking about possible export destinations, Malikov said that Azerbaijan has good export transmission lines through Iran, Russia and Georgia.
"We can export electricity in either direction via these power lines. Azerbaijan can expand its power sales by exporting electricity to Afghanistan, Pakistan, Iraq and Syria through Iran, via Georgia - to Turkey and later to Europe. Electricity can be exported to the CIS countries through Russia. Moreover, Russia itself is a very attractive market," he said.
The State Customs Committee reports that in January-March 2015 electric power export from the country totaled 89.689 million kWh that exceeds the 2013 same term's index (56.165 million kWh) by 1.6 times. Delivery for power export reached 60.5 million kWh in January, 7.27 million kWh in February, and 21.89 million kWh in March 2015.
Renewable Plan
Development potential is huge and experts suggest that Azerbaijan may be able to eventually run on 100 percent renewable energy. Malikov earlier noted that the total potential capacity of renewable energy sources in Azerbaijan exceeds 12,000 MW. Solar accounts for most of this potential at 5,000 MW, while wind accounts for 4,500 MW, biomass for 1,500 MW, geothermal energy for 800 MW, and small hydro for 350 MW.
The Agency is now focusing on one of the largest renewable energy projects - the first offshore wind power project in the former Soviet area. Agency Head, Akim Badalov recently noted that the 200-MW project will supply energy for several oil producing enterprises in the Caspian Sea. It will be built between the two oil-extracting platforms near the Pirallahi Island.
He said the construction is expected to commence in 2017/2018, adding that the plant can be commissioned within two to three years after that. The construction of the station will cost 450-500 million manats ($427-$475 million).
"The project will be implemented through borrowed funds, in particular, loans from foreign banks. A number of investors from the UAE, Germany and China already expressed their interest in participating on the project," he said.
Moreover, under its strategic plan of renewable energy development, Azerbaijan will build solar plants totaling 2,065 of megawatts and wind farms to a energy output of 1,512.5 megawatts.
"Development of renewable energy in Azerbaijan will reduce the use of gas in the domestic market and increase its export volumes," according to an interview on the conference website CISOLAR-2015 with Malikov. "As clean energy plants can be located near the users of the power, they will also cut the costs of upgrading networks and reduce the losses during electricity transmission," he said. In addition, the renewable energy industry development will give a good impetus for the innovative development of the economy and will create new jobs.
Expert Ilgar Muradov told AzerNews that wind has many advantages that would make it an appealing solution to increase power generation in the country.
"When properly designed and located, wind turbines are environmentally benign, as they provide electrical energy without emitting greenhouse gases," he said. "Offshore wind farms can have many benefits compared to onshore wind farms: wind currents tend to be stronger and smoother offshore than on land. Onshore topographic features such as mountains, valleys, and skylines can disrupt the smooth flow of air and introduce turbulence."
But, the minus is the difficulty of creating an infrastructure system to get the electricity from the turbine to shore without any significant loss of power. Another drawback of offshore wind farms is increased maintenance costs, according to the expert.
The construction, operation and maintenance of an offshore wind farm depend greatly on the weather conditions which by creating harsh environment at sea may limit access to the turbines. Consequently, these activities become more time consuming and costly rather than at an onshore wind farm.
Generation data
The electricity export potential of Azerbaijan has been calculated at six billion kilowatt hours. The installed capacity of Azerbaijan's power supply system is 7,200 megawatt, which now produces annually about 24 billion kWh, allowing Azerbaijan each year to export 2.1 billion kWh.
The capacity of Azerbaijan's power supply system has increased by 2,300 megawatt over the last 10 years as a result of the commissioning of new energy generating facilities. The main sources of electricity generation are: gas (92 percent), hydro resources (7.9 percent) and alternative sources (0.1 percent).
Azerenergy JSC is the main producer of electricity in Azerbaijan. It has over 200 substations with a capacity of 500, 330, 220 and 110 kilovolt amperes, as well as ten hydro power plants and 14 thermal power plants. In 2014, Azerbaijan produced 23.11 billion kilowatt / hours of electricity, which is 6.7 percent more than in 2013.
--
Follow Gulgiz Dadashova on Twitter: @GulgizD
Follow us on Twitter @AzerNewsAz