High time for Sargsyan to admit defeat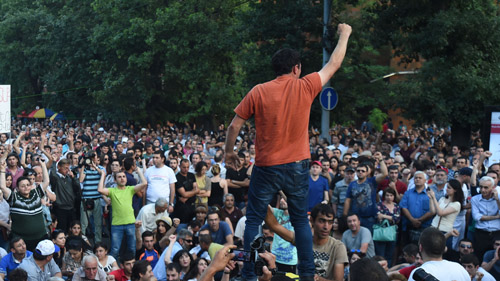 By Laman Sadigova
The growing public rally on Baghramyan Avenue has potential to subvert the Sargsyan regime in Armenia.
Such an aggressive popular reaction was indeed unexpected for authorities who were accustomed to the passive stance of the people.
The scenario might have even been unexpected up to a year ago, but now it seems the patience came to an end.
Angry protesters are now refusing to leave Yerevan's central square in the hopes of at least achieving justice and putting an end to the current political outrage against the incumbent state power.
The public protests, which started as an outcry against the rise in electricity prices in a country, where every third person is living in poverty, were quite understandable from the very beginning.
Now it is difficult to expect President Sargsyan to maintain power any more because the country is already bursting at the seams.
The government's decision to amend the Constitution caused a new wave of protests and distrust from the citizenry. People believe that the problems that exist in Armenia are not connected with the Constitution and could not fathom changing it.
Apparently, the government is playing a tricky game. Some MPs from the parliamentary majority in the face of the Republican Party of Armenia headed by Sargsyan, say that the alleged constitutional amendments were required by the Armenian opposition itself. Meanwhile, the opposition says that it has not called for any constitutional amendments for at least the last ten years. Their only requirements are compliance with the Constitution, holding fair and democratic elections, and the parliamentary elections under a proportional representation system.
People in Armenia believe that the reforms have only one objective and are aimed at ensuring power for the ruling party and its leader, Serzh Sargsyan.
The current policy of the Armenian president has been a complete failure – the country is drowning in debt, poverty, and conflict. Even the decision to join the EEU that was dictated by unknown and incomprehensible reasons, has not brought any positive results, but on the contrary has worsened the situation in the country. All the arguments that were cited in support of joining the EEU were in exceptionally beautiful wording aimed at persuading the masses.
The political course, if it even existed, of the Armenian government has been trashed. Armenia is suffocating in an economic crisis, while the occupation of the internationally recognized territory of neighboring Azerbaijan has only broken its reputation, and people are leaving the country en masse as protests are gaining momentum.
People in the democratic country have all right to demand the government they want to see. It is obvious that the current government acts against the interests of the population.
How long will Armenian citizens endure a leader who leads the country to ruin?
---
Follow Laman Sadigova on Twitter: @s_laman93
Follow us on Twitter @AzerNewsAz