13 October 2015 15:10 (UTC+04:00)
4 276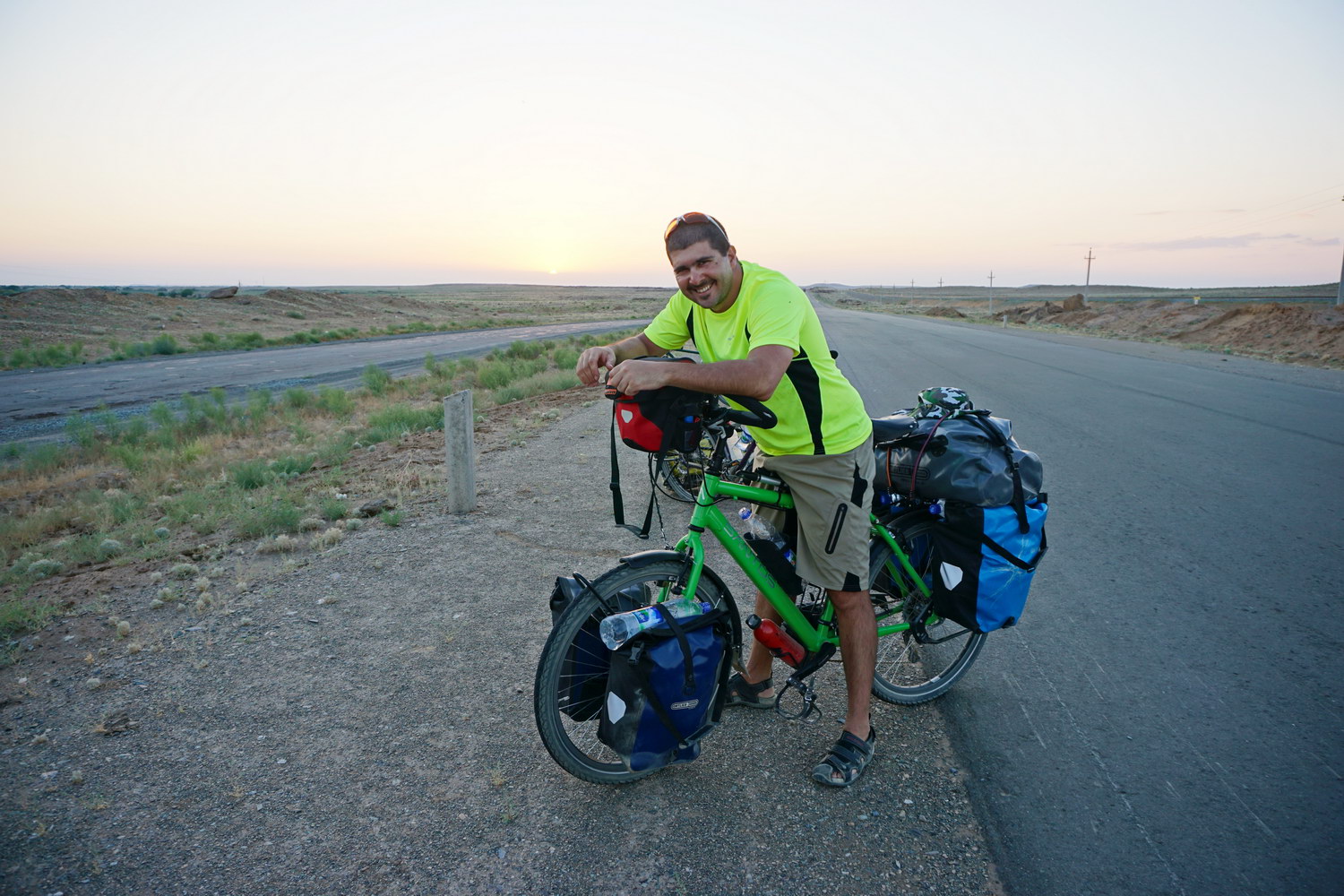 By Nigar Orujova
Cycling is gaining popularity in Azerbaijan. More and more Azerbaijanis prefer to ride on two wheels while traveling in cities and around the country. There are also courageous people that take up challenges not only in their home countries, but also around the world. One of them is Tural Abbasov, who is now on his way along the ancient Silk Road.
Starting from Baku, Tural wants to cross Central Asia and update his cycling and travelling fans about his achievements along the way to China on his blog, VeloTural. Not an athlete, but an amateur cyclist, Tural, 34, has already covered 4,132 km of his route in 129 days.
The cyclist shared his story of cycle mania that lead him travel the world, with AzerNews.
"Over the last few years, I have been commuting to work on a bike or did weekend rides in and around Baku," said Tural, who has never joined any professional cycling clubs. "I always liked bicycles and I think this is one of the greatest human inventions."
Tural, holding a Master's in International Relations, left his job in the United Nations to pursue the dream of cycling around the world starting at end of May.
"This is not my escape from reality or downshifting or whatever else it may seem. Since my school years, I have dreamed about a round-the-world trip, a trip of a lifetime, a big fun adventure. About two years ago, I started actual preparations for it. The initial plan was to backpack, but after accidentally watching the TV series 'Cycling home from Siberia' about Rob Lilwall's epic trip and then after reading his book, I realized that a bike can be transformed into a 'house on wheels' and this mode of travel can be more fun and rewarding. Hence, I made my decision to cycle," said Tural.
Preparations for this long journey were not effortless. It all started with thorough research.
"I read other travelers' blogs and books, researched bicycles and outdoor gear, planned my route and timeframe, collected info about the climate in areas that I wanted to visit, visa regulations, etc. I made friends with a few actual cyclists and consulted with them online, even hosted cyclists passing through Azerbaijan in my house and they were glad to answer my questions and to share experience. Then I counted my pennies and started to buy gear. I bought almost everything from overseas, from a bicycle to sleeping mat," said the cyclist.
In September 2014, Tural did his first a 600 km long test-run tour around Azerbaijan to make sure that bicycle touring and "living from the bicycle" works well for him. After the successful ride, the decision to go international was made.
"I really enjoyed my 10-day cycling tour around Azerbaijan. Our country is quite safe, the food is tasty, water is available everywhere, the banking system is well established, and people are super friendly and hospitable," Tural said. "This is also the feedback I heard from foreign cyclists I hosted in Baku or met on the road. Hence, bike touring in Azerbaijan should be a nice experience for everyone. Believe me, even being a local I got much more impressions from communicating with people and being in places than one would normally get by just driving a car."
Tural shared his observations on the culture of cycling in Baku, which is definitely on the rise, he noted. "More and more people ride bikes and I do believe that one sunny day, we will have separate bicycle lanes in Baku and the absolute dominance of 'a big black car with tough lights and horns' in the minds of my fellow Azerbaijanis will be seriously shaken."
"I only heard of two other Azerbaijani guys who travel outside Azerbaijan individually on their bikes. So, there should be only three of us so far. Surely, this testifies that the notion of bicycle touring is still quite alien to Azerbaijan. However, I hope that our example will encourage more and more adventurers, and more people will be opting for such a cheap, healthy and environmentally friendly mode of travel," he added.
His relatives support him, but his father was skeptical of his trip first. Over time, however, he changed his mind.
"Dad's support and blessing during the preparatory stage was very valuable to me. Now we keep in touch regularly and I feel how happy he is to see my progress. My brothers and friends were also a great source of enthusiasm and support right from the moment I told them about my crazy idea of cycling around the world. I am pretty sure that unless some objective reasons prevent them from being out of country for a long time, some of my friends would happily join me on the road," he believes.
On his tour, the cyclist took all the basic necessities, as "the absolute minimum that a man would need to live outdoors can be easily fit onto a bike."
"That's why such way of travelling is so great – you know exactly what you carry, where it's packed and whatever you need is right there at your disposal," the cyclist noted. "My main load consists of my camping gear, cooking set, clothing, bike tools and spare parts, electronics, medical and hygiene kit. Of course, I also carry food and water, but the volume depends on where I am at the time. This includes other miscellaneous small necessities include things like water filter, headlamp, bungee cords, etc."
Travelling along the Silk Road was never easy, and Tural thinks the most difficult thing is to maintain mental integrity once you are out of your comfort zone.
"You ought to say good bye to your cozy life back home and reshuffle your mind to adapt to the life on the road, take pleasure from the joys and stand up to the challenges it gives you."
However, despite the challenges, Tural has never regretted this life-changing decision.
"I have a mental trick that works superbly. When I am going through a hard road section or just having a bad day and when my mind is about to eject a rhetorical scream like 'What the hell are you doing here?" I pose myself a question: 'Hey dude, OK, what would you choose – to be here right now or be back to your routine days in Baku, your paperwork and cozy chair in the office?' The answer is obvious," stressed Tural.
Today, the cyclist is going through Asia, but his dream is to cycle around the world, which is broken down into a few legs.
"Leg number 1 is to cycle along the ancient Great Silk Way from Baku to China through Central Asia. So far, I managed to cross Kazakhstan, Uzbekistan, Tajikistan and Kyrgyzstan. Now I plan to re-enter Kazakhstan to cross into China. Then my plan is to go down to South-East Asia, then do Australia, the Americas and Europe. Not sure about Africa at this point, but who knows, I may also cycle a part of it."
Tural believes his dream route may take 1.5-2 years to complete and hopes his physical fitness and financial means will allow him to achieve it.
The cyclist is not planning to challenge the winter cold and wants to complete the Chinese portion before winter and then go to the warmer Southeast Asian countries.
Tural's route depends on various factors – weather, road surface, gradient, his physical and mental condition, etc. "On a bad gravel road uphill or against a strong headwind I might do, for example, 5 km an hour, but on a good flat tarmac you can even hit up to 150 km a day."
Busy with the road and accommodation, Tural is also updating his blog with photos and travel notes.
"It's a pleasure to see that more people pay valuable attention to what I do. They read my travel blog, like myFacebook page, send me support messages. To me it is a great moral boost. However, you would appreciate how challenging it is to pedal outdoors and maintain the travel blog, e.g. write journal entries and upload photos if quality Internet is a luxury in the areas you travel. However, I try to do my best and convey the trip highlights as well as I can."
The day of the courageous cyclist starts early in the morning. "If I camped, the morning is spent having breakfast and breaking camp. I usually cycle in two big shifts – before and after lunch, with a few shorter breaks across the day. A couple of hours before sunset I search for a place to stay overnight – it can be wild camping or a spot in a local village or at the roadside cafe, for example," Tural said. "I pitch my tent, wash, eat, check the bike, read my book and write my diary and sleep. When I need to take a shower and wash my clothes I stop at a budget hotel."
Tural wants to encourage everyone dreaming of a travel. "Do not to be afraid to leave your comfort zone and follow your dreams. This may sound banal, but often banality contains the simple answer. The travel should not necessarily be a bicycle touring. It can be a simple backpacking. There are many ways to travel around the world cheap, just do a little research and you will see my point."
"However, if you want to try bicycle touring, start small, do a weekend trip somewhere, 'live from your bicycle', see if this is something for you, then increase the distances and time you spend outdoors. Then, if you are absolutely sure that you like pedaling and being open to the nature and people give you pleasure, cross the Rubicon," Tural adds.
The cyclist is also open to give more detailed advice on his website or Facebook page.
__
Nigar Orujova is AzerNews's staff journalist, follow her on Twitter: @o_nigar
Follow us on Twitter @AzerNewsAz
Related News