Refreshing day in Gusar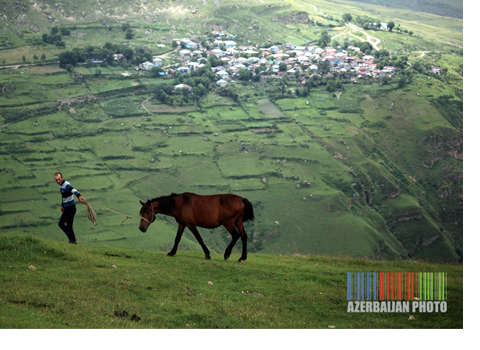 By Nigar Orujova
The summer heat has hit Baku and made any movement an act of valor. No one can resist against the sizzling sun and burning air of the Absheron peninsula. For those, who have had their share of getting sunburned on the Caspian Sea shore, there is a good opportunity to rest in the northern region of Azerbaijan, namely Gusar.
The name of the region – Gusar – has nothing in common with hussar, but originates from the "khisar" tribe.
This land of green valleys and high mountains possesses the highest peak in Azerbaijan, called Bazarduzu mountain, which is 4,466 meters high.
In Gusar, you can have a picnic under the shade of trees, which cover about 20 percent of the region's territory. The forests of Gusar consist of oak, beech, and hornbeam trees. Here you can find plants such as sumah, mushmula, hawthorn, dog rose, gooseberry bushes, and forests grapes.
The distinguishing features of the region that attract many foreign and local tourists each year are the beautiful waterfalls of Shaknabaz and Laza, where falling water creates snow-white foam and a makeshift fireworks display from the splash of the water.
The region is also rich with historical sites, among which are the ruins of a 13-century fortress in the village of Anig, the mausoleum of sheikh Juneid at the village of Khazra, antique mosques in the villages of Khil, Anig, Balagusar, Yasab, Kohna-Khudat, and Gunduz-gala.
Another historically significant attraction is that the great Russian poet Mikhail Lermontov visited Gusar during his stay in the Caucasus. In Gusar city, you can visit the memorable house where Lermontov stayed.
Gusar provides all the conditions necessary for ecological tourism using three routes. Traveling on the Gusar-Laza route, tourists might observe historical monuments and samples of folk art in the village of Anig. Alpinism amateurs may climb Shahdag Mountain at the end of the route.
The Gusar-Sudug route is interesting with its mausoleum of sheikh Juneid in the village of Khazra. Besides, tourists may become familiar with samples of folk art and the traditions of the local population along the whole route. The route crosses the height of 1,800 meters above the sea level at the side of Shahdag Mountain, unveiling the impressive sight of the mountains.
For those who do not wish to travel at great lengths, Gusar-Gazanbulag route offers beech forest of Alistan-baba where you can hide from the heat and sun.
Moreover, around the region, you can also find carpet weaving, handicraft embroidery, wood engraving, and souvenir shopping during your visit to refreshing Gusar.
--
Nigar Orujova is AzerNews's staff journalist, follow her on Twitter: @o_nigar
Follow us on Twitter @AzerNewsAz