Azerbaijani waterfalls to refresh your spring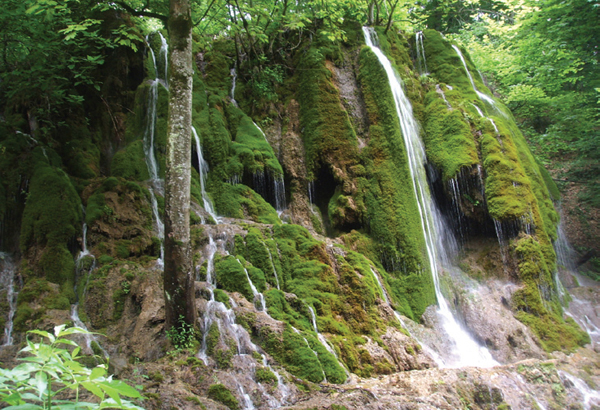 By Nigar Orujova
Spring is a wonderful time of the year for visiting Azerbaijan's amazing waterfalls; they have already awoken from their winter dream, beautifying the northern regions of the country.
Azerbaijan's waterfalls in the northern regions turn to ice in winter, becoming the perfect place for fans of ice climbing. In spring, they also attract sports fans for other reasons.
You can arouse yourself with the pure beauty of the modest and furious, full-flowing and sublime water flows that will definitely touch your feelings.
The noble Afurdja waterfall, which is included in the list of the monuments of Azerbaijani nature, and the Mychig, Hamzali, Katek, Kirintov, Sarygyuney, and Ilisu waterfalls will reach their potential loveliness when embosomed with blossoming trees.
You should not think that this journey would be a promenade before lunch. Most of Azerbaijani waterfalls are cascades falling from arduous hills, and not everyone can manage to climb them.
However, any determination will be reworded with the scenic and wild nature, rare flowers, and trees.
Guba, Qusar, Khachmaz, Khinalig, Qakh, Gabala, Ismayilli, Yardimli - these destinations are recommended for all waterfall admirers.
Lovers of both high and small waterfalls will be pleased with Azerbaijani falls.
Afurdja in Guba, one of the highest waterfalls, will strike you with its majesty; the same goes for Ramrama waterfall in Qakh, which is 97 meters high.
Mamirli, another waterfall in Qakh, is located in a thick forest and is of an unusual form. The water falling from rocks for centuries has formed moss on their surface, which resembles a green carpet.
Locals and foresters will kindly show you the way to these natural wonders, but you can also hire a guide or a tour.
If you are not confident about having enough strength to reach these heights, do not be afraid, as there are off-road cars and horses ready to help you, making the trip more exciting on the mountain roads.
Self-confident extreme fans can visit the waterfalls in Zaqatala, where you can test your courage climbing up and down the mountains to reach the falls. You can also camp in the area, as the way back will require fresh strength.
Besides waterfalls, you can expect to see mountain meadows and forests attractive in their beauty; you can also travel along the rivers, which will make the trip more enjoyable.
You can also enjoy climbing up the Gabala rocks to reach the last of the "seven beauties", a multilevel waterfall.
Moving to the south, you can find a number of multileveled waterfalls in Yardimli. Takdam waterfall, a visit card of the region, is a two-level waterfall of 34m high. The top of the fall is located at an altitude of 1,500 m, and opens to a magnificent view of the surroundings.
Several kilometers behind it, there is a five-level fall called Beshmartaba located in a barely acces­sible place inside a forest. Despite the exhausting ascension to its top, there are enormous caves in rocks, used to be inhabited by bandits, which will add more thrill to your journey.
Therefore, this spring you can try alternative ways of extreme tourism by mixing mountain hiking with waterfall searching in Azerbaijan's picturesque nature.