29 August 2018 14:40 (UTC+04:00)
4 248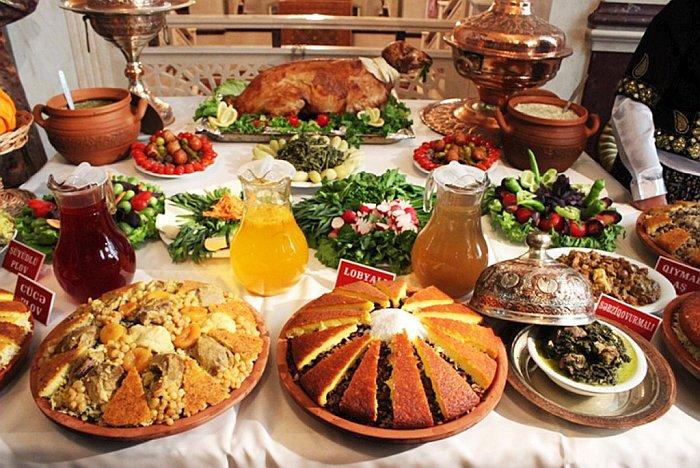 By Laman Ismayilova
Azerbaijani cuisine is delicious and addictive. The national cuisine is famous for plenty of vegetables, herbs and different spices.
Fresh mint, coriander, dill, basil, parsley as well as sumac, cumin, saffron, and cinnamon are very popular and often accompany the main dishes.
Such seasoning as lemon, olives, food acids, abgora, narsharab, cherry plums, elbukhara, gora, kizil-akhta, kuraga (dried apricots), lavashana and others are also widely used to enhance the food taste and smell.
The most of Azerbaijani dishes are made of mutton, beef and poultry. Rice and products made from flour are also widely used in national cuisine.
Sea, lakes and rivers of Azerbaijan are abundant with different fish species.
The Caspian Sea is home to many edible species of fish, including the sturgeon, Caspian salmon, sardines, grey mullet, and others. Black caviar from the Caspian Sea is the world-famous national delicacy.
Some Azerbaijani dishes are cooked in special utensils: piti soup is prepared in clay pots, pilaf - in special boilers with a thick bottom (kazan), kebab is planked on special skewers. In general, more than 2,000 recopies are known in the national cuisine.
If you ask Azerbaijanis what their most significant dish and, undoubtedly, they'll tell you "pilaf", the king of Azerbaijani cuisine.
There is no Azerbaijani holiday, whether it is the celebration of springtime – Novruz holiday or such special occasion as wedding ceremonies, without pilaf.
Azerbaijani pilaf consists of rice, fried meat, dried fruits, eggs, or fish prepared as an accompaniment to rice, and aromatic herbs. Rice is not mixed with the other components.
Fisinjan is served to the pilaf. The pilaf is usually served on its own dish or plate, with sauces or stews served in separate bowls. Qazmaq, a crust made at the bottom of the pan when the rice is steamed, is highly prized and is served in pieces with the rice or on a separate plate.
Azerbaijani cuisine has dozens of different types of pilaf.
Shakh pilaf is the signature dish of Azerbaijani cuisine.
Parcha-dosheme pilaf, shirin pilaf, toyuq pilaf and other types of pilaf are especially popular in country.
Azerbaijani cuisine wouldn't exist without juicy kebab. Kebab is made from different kinds of marinated chopped or minced meat, chicken or fish, and vegetables, such as bell pepper, onion, mushroom and tomato. All this is pinned on a skewer and is fried over fire like a barbecue.
Lyulya Kebab is a particular type of kebab that consists of mouth-watering barbequed minced lamb on skewers.
Qutab is another significant dish of Azerbaijan cuisine. It is a sort of pancake with different stuffing.
Different kinds of meat, spinach, cheese, pumpkin are among the most popular staffing. It is wrapped into a thin layer of dough made of flour, water, eggs and salt, into a crescent-shaped form patties, and then the patties are fried on both sides. Qutab is usually served with herbed yoghurt, greens and sumac.
Each region of Azerbaijan has own favorite qutabs. You can taste Shamakhi qutab in the north of the country and Jorat qutab in the settlement near Baku.
If you want to experience Azerbaijan through food, you need to try the unique dish of national cuisine-dolma.
The name of this ancient national dish originates with the pure Azerbaijani verb doldurmag (to stuff) as it means various leaves, vegetables and fruits stuffed with minced meat.
There are more than 25 varieties of this dish, including vitamin full vegetables.
Dolma is traditionally stuffed with ground lamb and/or beef, rice, onions, and herbs.
In different regions of Azerbaijan, dolma is also made of the leaves of the lime tree, quince, beech tree, sorrel, bean leaves, penny cress and other plants.
Jiz-Biz is made with fried sheep liver, kidney, lung, heart, and intestines. Each of the ingredients has to be cooked using special techniques. Meat lovers go crazy for this delicious.
Azerbaijani cuisine is famous for its wide variety of soups.
Piti is delicious full flavored soup is the distinguished dish of Sheki -- beautiful mountain city located 370 km away from Baku.
It is made with mutton and vegetables (tomatoes, potatoes, chickpeas), infused with saffron water to add flavor and color, all covered by a lump of fat, and cooked in earthenware pots.
If you're looking for some new soup recipes, look no further. Kufta Boshbash will get your mouth watering. The soup includes hearty meatballs of minced lamb and rice. Depending on the region, chefs add different types of ingredients and spices.
Dushbara is a sort of dumplings of dough filled with ground meat and condiments.
Levengi is a stuffing made from ground walnuts and dried fruit, typical of the country's southern region Lankaran. It is used as a stuffing for both poultry and fish.
Satisfy your sweet tooth with amazing Azerbaijani desserts.
There are more than 30 varieties of Azerbaijani pastries that use unique ingredients such as poppy seeds, walnuts, almonds, sesame seeds, ginger, and cardamom, which make the treats spicy and especially tasty. Every region of Azerbaijan has its own special recipe for local sweets, which may even have different shapes depending on the traditions of the region.
Typical Azerbaijani desserts are pakhlava, shekerbura and badambura.
As you see, traditional cuisine comes in many delicious flavours.
---
Laman Ismayilova is AzerNews' staff journalist, follow her on Twitter: @Lam_Ismayilova
Follow us on Twitter @AzerNewsAz
Related News