Tourist attraction Yanardag to be renovated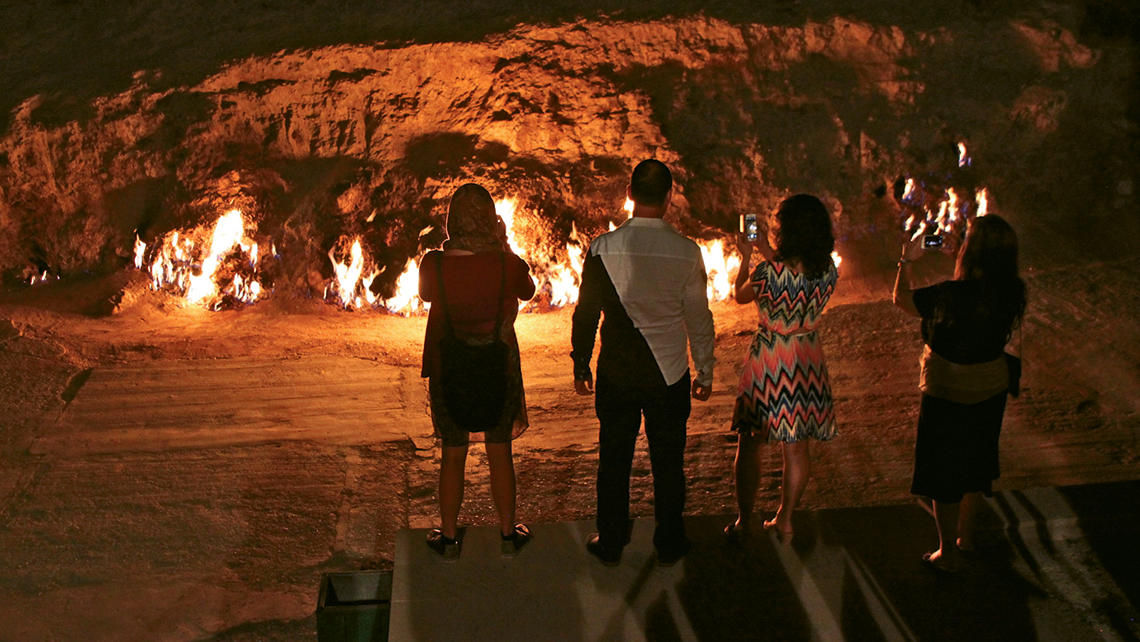 By Naila Huseynli
Yanardag or the Burning Mountain, a natural eternal flame burning from ancient times on the hillside in Azerbaijan, will appear in a new look before visitors after the forthcoming reconstruction.
The recently signed presidential order stipulates allocation of 1.2 million manats (about $705,000) to the State Tourism Agency from the Presidential Reserve Fund for the state budget in 2018 in order to bring this State Historical-Cultural Reserve with modern standards and create a modern tourist infrastructure in the territory of this monument.
Land of Fires must see attraction is a perfect place for tourists who want to discover Azerbaijan's ancient history and get warm in these cold evenings.
Earlier, Italian architects Laura Peretti and Sandro Teti have also proposed a project on the creation of the Theater of Fire and the Energy Museum on the territory of the State Historical and Cultural and Natural Reserve "Yanar Dag". The project intends to serve as cultural bridge between Azerbaijan and Italy.
The authors proposed to implement the project using high technologies and modern developments together with Azerbaijani specialists.
The burning mountain of Azerbaijan, is located on the territory of the village of Mohammedi about 30 kilometers away from Baku. The site of the reserve is a hill, at the base of which the flame constantly arises due to the release of natural gas from the earth.
Many think that the surroundings of this spectacular natural phenomenon need to be landscaped, including the creation on this territory of a modern infrastructure for the reception of visitors and tourists.
Yanardag never fail to amaze tourists and locals alike. In 2017, an enormous number of tourists visited the reserve and 54,717 out of 63,574 people were foreign tourists. The place was visited mainly by tourists coming from Russia, the United Arab Emirates, Iraq and other countries.
The history of the monument is shrouded in mystery, but a local legend goes that a shepherd once accidentally lit a fire there and the hill has been burning ever since.
For long period, Azerbaijan's population worshiped the fire. The natural fires of Azerbaijan are considered to have played a crucial part in the creation of a mystical faith centered on ceremonial fire cults - Zoroastrianism, which appeared in the region around 2,000 years ago.
---
Follow us on Twitter @AzerNewsAz