Azerbaijan wins 3 medals at World Judo Championship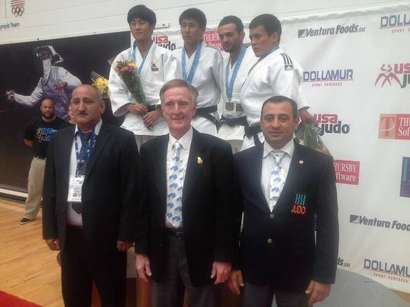 By Nigar Orujova
Azerbaijan's Paralympics team has won two gold medals in the first day of the World Judo Championship.
The national team celebrated its victory at the World Judo Championship, which took place in the city of Colorado Springs.
Ramin Gasimov (73 kg) and Bayram Mustafayev (66 kg) got gold medals, while Sabina Abdullayev (73 kg) became a silver gainer.
The team involves Head Coach Ibrahim Ibragimov, two-time Paralympic champion, two-time world champion and five-time European champion Ilham Zakiyev, and twelve Paralympic athletes who will compete in weight categories: men - 60kg, 66kg, 73kg, 81kg, 90kg, 100kg, +100 kg, and female - 48kg, 57kg and 63kg.
Athletes who will finish the championship with gold medals will receive a license to participate in the Paralympics Summer Games in Rio de Janeiro in 2016.