Azerbaijani paralympic swimmer wins European gold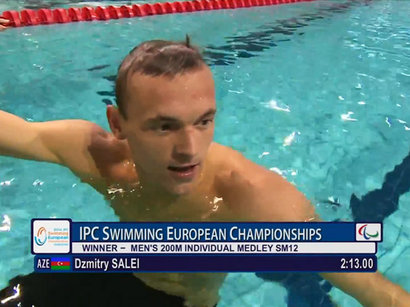 By Nigar Orujova
Azerbaijan's Dmitry Saley has won gold in the 200m race in the IPC European Swimming Championships in Eindhoven, the Netherlands.
National Paralympic Team's athlete Dmitry Saley along with athlete Eldar Efendiyev represented the country at the championship.
Saley and Efendiyev gained good results in the 200-meter medley swimming and struggled in the finals, where Saley secured the title after timing 2.13 minutes.
Saley has already won bronze in the 100-meter breaststroke at this championship.
The Azerbaijani sportsmen will take part in other disciplines of the championships to run until August 10.
Azerbaijani Paralympic athletes are achieving more success year by year. Currently, they are taking part in 10 sports competitions.