Iran army gets new weapons, vehicles close to National Army Day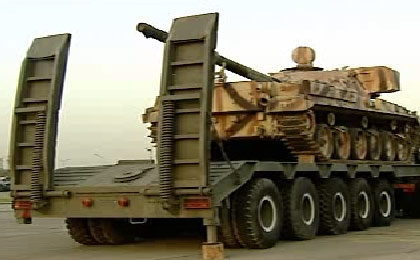 Timed to the marking of the National Army Day to be held on April 18 in Iran, the country's regular army received new equipment, including weapons and military vehicles.
Commander of the Iranian Army's Ground Forces Brigadier General Ahmad Reza Pourdastan attended a ceremony for unveiling and delivering tactical and reconnaissance vehicles to the ground forces, Mehr news agency reported.
Meanwhile, a number of optimized Chieftain battle tanks, sniper guns were exhibited during the ceremony.
A vehicle performing as a communication node, the 7.62-mm Dragunov sniper rifle and a 57-mm air defense system were also among the delivered equipment.
Annually on April 18, select units from Iran's Armed Forces hold parades across the country to mark National Army Day.
Iranian official media outlets have suggested that the country has made achievements in its defense sector and attained self-sufficiency in producing essential military equipment and systems over the recent years.
Official Tehran has repeatedly said that its military might poses no threat to other countries, reiterating that its defense doctrine is based on deterrence.
---
Follow us on Twitter @AzerNewsAz