Iran sells Turkey domestically-produced drones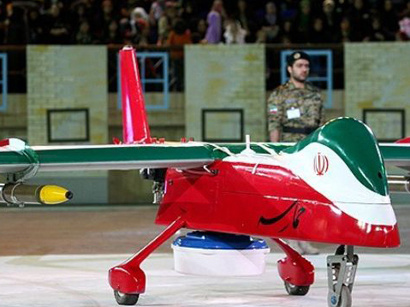 By Sara Rajabova
Iran sells its neighbor Turkey drones that have been produced by an Iranian company and are suitable for inspecting overhead power lines.
Ali Motamedzadegan, director of Mazandaran Science Park where the drone was designed and produced said the drone can alert the need for inspections of power transmission lines and is able to take photos and record videos of target sites, ISNA reported on August 19.
In recent years, Iran has made several major breakthroughs in its defense sector and attained self-sufficiency in producing important military equipment and systems, including a variety of domestically-manufactured drones.
Motamedzadegan said regular drones cannot fly near power lines because the electromagnetic field around the lines creates problems for their internal hardware.
Thenewly-made drone is able to fly as close as five centimeters to the power lines because it has special features to resist electromagnetic fields, according to Motamedzadegan.
The drone can fly for 30 minutes each time and can carry up to 20 kilograms at 119 kph.
Currently, the drone can be operated from the vicinity of the inspection site, but studies are underway to use GPS technology to enable the drone to be controlled from greater distances.
Iran has gained a lot of experience in making drones – also called an unmanned aviation vehicle or UAV – after the country first used the aircraft for military use.
The country presented its first long-range unmanned aerial drone in 2010.
Since 1992, Iran has manufactured its own tanks, armored personnel carriers, missiles, radars, boats, submarines, and fighter planes.
The country has so far unveiled various domestically produced drones, including Ababil, Fotros, Hazem, Karrar (long range attack drone), Mohajer, Sarir, Shahed 129, Yasir, and Zohal.
Iranian officials have always stressed that the country's military and arms programs serve defensive purposes and should not be perceived as a threat to any other country.
--
Sara Rajabova is AzerNews' staff journalist, follow her on Twitter: @SaraRajabova

Follow us on Twitter @AzerNewsAz