Kazakhstan expecting oil production decline by 2017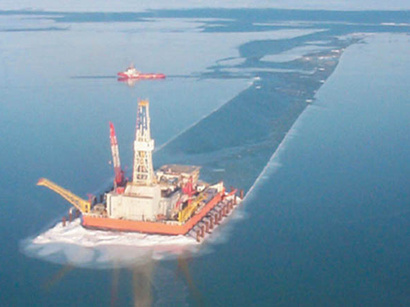 By Aynur Jafarova
Kazakhstan's bid to become one of the world's top oil producers has been blown off course by the disaster unfolding around the giant offshore Kashagan field in the Caspian Sea, which may not come back on stream until 2017 -- more than 10 years later than initially planned, sources close to the project say.
"Kazakh officials admit that until Kashagan finally starts up, oil production will remain stuck at around 1.6 million barrels per day and may even decline as levels drop off at mature onshore fields. The delays leave a big hole in the Kazakh budget, which had been based around abundant oil flows from the 9 billion barrel reservoir," International Oil Daily reported.
With recoverable oil reserves estimated at 13 billion barrels, Kashagan field is believed to be the largest oil field in the world after Prudo Bay in Alaska. Its natural gas reserves are also estimated at over 1 trillion cubic meters.
Oil production in the Kashagan field started on September 11, 2013. However, the operations had to be stopped on September 24 due to a gas leak in the onshore section of the gas pipeline running from Island D to the Bolashak onshore processing facility.
The Department of Emergency Situations was immediately briefed on the regulations. Production was resumed, but stopped again on October 9 after the detection of another gas leak.
Kazakhstan's Deputy Oil and Gas Minister Magzum Mirzagaliyev said the oil production at Kashagan field is expected to be resumed in the second half of 2016.
"But industry sources familiar with the project say the timing is optimistic and that the repair work, which is hampered by the extreme cold of the North Caspian and the presence of deadly hydrogen sulfide in the reservoir, is already behind schedule," International Oil Daily said. "Another source involved with Kashagan admitted that the schedule was tight and said meetings would soon be held with the government to assess the progress made so far."
When it finally kicks off, the first stage of development of Kashagan is due to produce around 50,000 barrels per day (bpd) and then ramp up to around 370,000 bpd of crude within two years.
"So far, the partners have spent close to $50 billion, making Kashagan the world's most expensive oil project by some distance. There is no indication about the timing of a second stage of development, which would push production up toward 1 million bpd, and some sources doubt that it will ever go ahead given the project's tortured history."
"It's not going to happen, no way", a source close to the consortium says, although other observers say the Kazakh government will not allow its flagship project to be cut short. They say the government has no choice but to extend the production sharing contract beyond its expiry date of 2041, however reluctant it is do so.