Iran to transfer Persian Gulf water to counter drought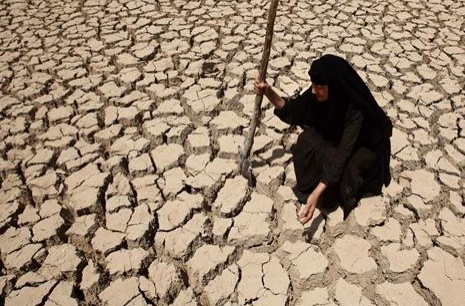 By Sara Rajabova
Iran's Energy Ministry has invested in a project on transferring Persian Gulf water to the country to tackle drought problems.
Energy Minister Hamid Chitchian said on June 26 the Ministry invested in a project to transfer Persian Gulf and Sea of Oman's water after desalination to Iran's southern Sistan and Balouchestan province and some central provinces to counter drought problems there, IRNA news agency reported.
"The Department of Environment (DoE) rejected the plan to transfer the Caspian Sea water because the salt density of the water increases highly after desalination and this poses a threat against the aqua life there," Chitchian said in a meeting with prominent clerics and sources of jurisprudence in Qom.
He added that,the ministry proposed instead transferring of Persian Gulf and Sea of Oman's water to those provinces.
Chitchian elaborated other plans to provide fresh water for various provinces of the country. The plans come amid reports of drastic decrease of precipitations up to 47 percent in 15 provinces during the years of lingering drought in central and southern Iranian provinces.
He noted that due to water shortage problem, the farmers in those areas have resorted to irrigation using well water.
Chitchian said the water consumption is on the rise adding the existing water resources have been decreasing ten billion cubic meters and reached 120 billion cubic meters from the previous 130.
He rejected the proposals made by some provincial governors and parliament members for more dam construction to resolve the problem.
Chitchian noted that the construction of new dams will not add to any water resources and will instead distribute the same resources' waters. Meanwhile, some of the constructed dams have not reserved much water so far.
Such mega-projects are being implemented in the country as Iran's soaring population growth further threatens the country's water resources, already low in much of the country resulting from insufficient rainfall and desert environment.
Water shortage is expected to remain a key resource problem in Iran, similar to other regions in the Middle East, and causes regional instability if policy-makers do not develop some long-term water management strategies, particularly for irrigation projects.
Currently, 35 percent of the total population is suffering from drought and water shortage in northeastern, eastern, southeastern, south and central Iran. The lack of storage dams prevents the practical use of rainfall. Floods occur often.
Tehran city officialsbegan rationing water in 2001 due to water shortage, and this policy may extend to other cities.
Iran's Energy Ministry has also started rationing water as the water crisis continues in the country.
Arak, Esfahan, Bandar Abbas, Tehran, Shiraz, Qazvin, Qom, Karaj, Kerman, Mash'had, Hamedan, and Yazd are the major cities which are expected to face a severe water shortage this summer, Iran's Tasnim news agency reported.
Iran has already started water rationing in the city of Karaj.
Energy Ministry's officials say that by cutting consumption by 20-30 percent, Iran will face no difficulty in distributing enough water across the country.
Iran's rationing water project in Karaj comes as the country's President Hassan Rouhani previously ordered the Energy Ministry not to start water rationing.
Advisor to Iranian Energy Minister, Hamidreza Janbaz has recently said 517 cities are struggling with water shortage across the country at the present.
Janbasz, however, said that the Energy Ministry will face no difficulty in providing enough water to the country.
Iran is located in an arid zone and the country has been repeatedly faced with drought over the past 40 years.
The drought of 1992-2002 caused a major blow to agriculture. There were quotas imposed for fresh water in several cities, including Tehran.