25 November 2013 11:45 (UTC+04:00)
1 854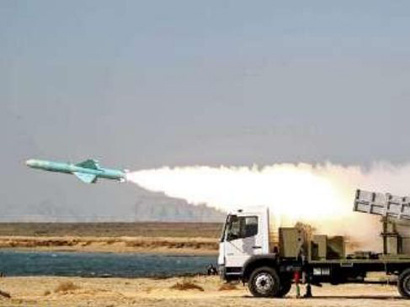 By Sara Rajabova
Commander of the Iranian Navy, Rear Admiral Habibollah Sayyari has said Iran plans to test its new cruise missiles during the military exercises to be held in January, 2014.
Sayyari called the military exercises to be held in January "the largest," adding that these exercises will be held in northern part of the Indian Ocean and neutral waters, Tasnim news agency reported.
He said that the newest military achievements of Iran will be tested during the military exercises.
"The newest cruise missiles will be tested during these exercises, aside from that, we will also test new weapons," Sayyari said.
Several destroyers, missile boats, submarines, helicopters, marines, special operations soldiers and navy divers will participate in the exercises.
The military exercises will be named "Vilayat-92.
Sayyari said the unmanned aerial vehicles (UAV) will also participate in these exercises, adding Iran achieved good progress in production of both short range and long range UAVs.
He also said that the Iranian Navy is to unveil a state-of-the-art phased array radar system this week.
Sayyari said that the radar system named "Asr" will be demonstrated on November 27 on the eve of National Navy Day.
November 28 is a National Navy Day in Iran. It commemorates Operation Morvarid of 1980, a major Iranian Navy victory during the Iran-Iraq war.
Sayyari said that new military vessels and aircraft are planned to enter service.
The Navy plans to launch a new phase in the manufacturing of the Sahand destroyer he added.
Sayyari pointed to Iran's constant presence in international waters and noted that the presence of Iranian naval fleets in the high seas is among the Navy's key priorities.
Iran's 27th naval fleet has already returned from its 95-day mission in the high seas and the country's 28th fleet has set off for its international mission.
Sayyari said that 28th fleet of warships, comprised of Alborz and Bandar Abbas warships, along with the Younes kilo-class submarine had recently been dispatched to the open seas on a 70-day mission to maintain security of Iranian commercial ships and tankers.
He said that during its mission, the fleet would sail across the Indian Ocean and would go to the Gulf of Aden and the Red Sea, and would dock in a number of ports in India, Sri Lanka, and Oman.
Related News