30 October 2013 23:26 (UTC+04:00)
1 244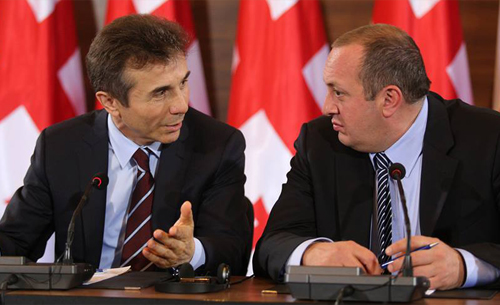 By Nazrin Gadimova
Georgian Prime Minister Bidzina Ivanishvili, who plans to retire in November, will announce the next Prime Minister this week, presumably on Saturday.
The Prime Minister and newly-elected Georgian President Giorgi Margvelashvili held a joint press conference on October 30.
Ivanishvili said that he had to consult with the Political Council of the Georgian Dream and the parliamentary majority before publicly announcing the candidate for the Premier's post.
He again refrained from naming the future prime minister, only saying that the candidate will be a very capable person and perfectly acceptable for everyone.
The only thing known about the candidate at this stage is that he is a member of the current government. According to the local media, it may be Georgian Health Minister David Sergeyenko or Georgian Interior Minister Irakli Garibashvili.
Ivanishvili also said that after his retirement following the inauguration of the Georgian president, at first he will keep in touch with Government officials who many need his advice, but it will not last.
Ivanishvili said that he was once accused by his opponents of being a "Kremlin puppet" and "pro-Russian", and now he is a target of criticism for allegedly wanting to rule the government from backstage without holding any formal responsibility.
"No one takes these allegations seriously anymore. My style has always been consistent and transparent, leaving no reason for suspicion," he said.
Margvelashvili said that Ivanishvili is "a big authority " for him and his opinion will hold great importance.
Newly-elected Margvelashvili's inauguration ceremony will be held on November 17, and the Governmental Commission for the preparation of the ceremony is led by Bidzina Ivanishvili.
Related News