Iran seizes over 300 tons of drugs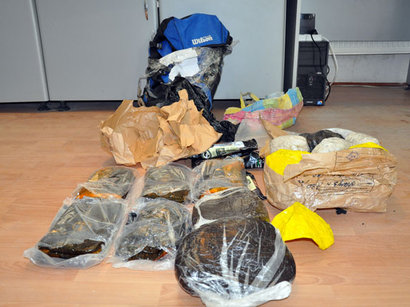 By Sara Rajabova
Over 300 tons of drugs have been discovered and seized in Iran since the beginning of the current Iranian calendar year (March 21), Iran's National Police Chief Esmaeil Ahmadi-Moqaddam said.
The figure shows a 20 percent rise compared to the same period in the previous year, the Mehr News Agency reported.
Based on the UN statistics, the amount of narcotics which are transited via Iran has decreased sharply from 5000 tons per year to 1700 tons, of which 500-600 tons are seized by the Iranian police, he said.
Drug prices in the country have increased six fold because of a police crack-down on drug dealers as well as national currency devaluation, Ahmadi-Moqaddam said.
Earlier in February, Ahmadi-Moqaddam said that about two million drug addicts live in Iran.
Between one to 1.3 million people use drugs permanently and about 700,000 people use the substances occasionally, he said.

Iran lies on a major drug route between Afghanistan and Europe, as well as the Persian Gulf states, and shares about 900 kilometers of a common border with Afghanistan, through which about 74 percent of opium is reportedly smuggled.
Iran's location has made the country a favorite transit corridor for drug traffickers who seek to smuggle their cargo from Afghanistan to drug dealers in Europe.
Iran has been actively fighting drug trafficking. According to official estimates, the fight against drugs annually costs Iran about $1 billion. The statistics also say that there are about 2 million drug users in Iran.
500 tons of drugs were reportedly seized during the last solar year and 115 tons during the first three months of the current solar year.
Owing to its rigid efforts, Iran makes 89 percent of the world's total opium seizures and has turned into the leading country in combating drugs.
Every year, Iran burns more than 60 tons of various seized drugs as a symbol of its determination to fight drugs.