Georgian FM sees potential for cooperation with Russia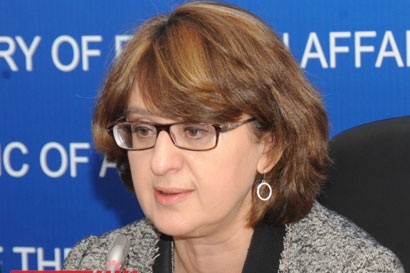 By Sabina Idayatova
Georgian Foreign Minister Maia Panjikidze sees potential for cooperation with Moscow in the field of security of the Sochi Olympic Games.

"We made some positive steps in the direction of Russia, and it has already produced concrete results. Due to the Sochi Olympics I certify that we will make a decision. Apart from this, we see the potential for cooperation in the field of security at the Olympics," Panjikidze said, when commenting on Russian President Vladimir Putin's statement on willingness to normalize relations with Georgia.

Earlier this week, Putin said that Russia is ready to accept assistance of Georgia in providing the security at Sochi Olympic Games.
"Yes, of course. We are ready for such assistance in general. We want to restore relations. We have a very warm attitude to Georgia. We are very close peoples," he said, answering to the question if Russia is ready to accept the Georgian help for provision of security at Sochi Olympics.
Commenting on the statement about the existence of the red lines, Panjikidze said that
it means Putin understands that they exists also for Georgia, and nothing has changed in that regard.

"The red line for Georgia is the occupation, the recognition of Abkhazia and Tskhinvali region and our country will never be reconciled with it. Despite the fact that our relationship have certain extent in some areas and are going to get warmer, we will always act from the interests of Georgia," Panjikidze said.

Georgia and Russia, its giant northern neighbor, have maintained no diplomatic relations since a brief war in 2008. Tbilisi broke off relations with Moscow in August 2008 when Moscow crushed a Georgian assault to reassert control over the two rebel regions -- South Ossetia and Abkhazia -- and later recognized the breakaway regions. Georgia announced the two unrecognized republics as occupied territories in September 2008.