9 April 2013 19:59 (UTC+04:00)
1 145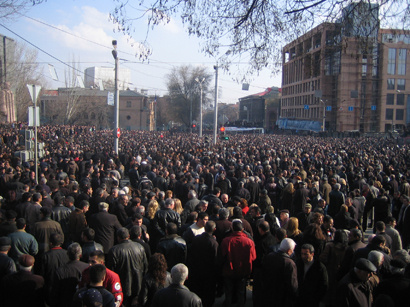 By Sabina Idayatova

Protests against electoral fraud and the re-elected Armenian President Serzh Sargsyan took place in the capital Yerevan on Tuesday, the day of his second inauguration.
Seven candidates had joined the race for the Feb.18 presidential election. According to official data, Sargsyan won with 58.64 percent of the votes. Opposition Heritage party's leader Raffi Hovhannisyan ranked second with 36.74 percent.
Hovhannisyan and his supporters, who do not recognize the results of the presidential election, are holding an alternative "ceremony of inauguration" of "new Armenia" on Freedom Square, News-Armenia reported.
However, the supporters of Hovhannisyan could not reach the Baghramyan Avenue where the residency of the president is located, as the police blocked their way.
Hovhannisyan guaranteed to ensure the protest is peaceful, but demanded an explanation of the prohibition of the protest.
"We have the right to move through the streets freely. Your actions and words are illegal," Hovhannisyan said to the police, calling on his supporters not to succumb to provocations.
On the same day students reportedly conducted a march in protest against electoral fraud in Yerevan. The protest started at the main building of the Yerevan State University, where the police did not allow young people to enter the territory.
The protesters urged the students to join them on Freedom Square, where the so-called "inauguration of Hovhannisyan" was being conducted.
The protesters continued their route, chanting slogans in support of justice and Hovhannisyan.
Meanwhile, a rally of supporters of the Revolution of Smiles and Greetings opposition movement against the 'lies' of the authorities and massive fraud in the elections was scheduled to be held near the Armenian embassy in Moscow on Tuesday, Armenia Today reported with reference to a statement released by Hello, Russia.
According to the report, the rally is being held to recognize the power of the people in Armenia, to hold repeat and fair elections and to celebrate "the alternative inauguration of the elected president".
The rally organizers said in a statement that "a request was made for protesters to behave properly with law enforcement officials and not to yield to any possible provocations".
Related News