NATO's ex-boss as influence peddler does disservice to Armenia's aggressive policies & disturbs Caucasus peace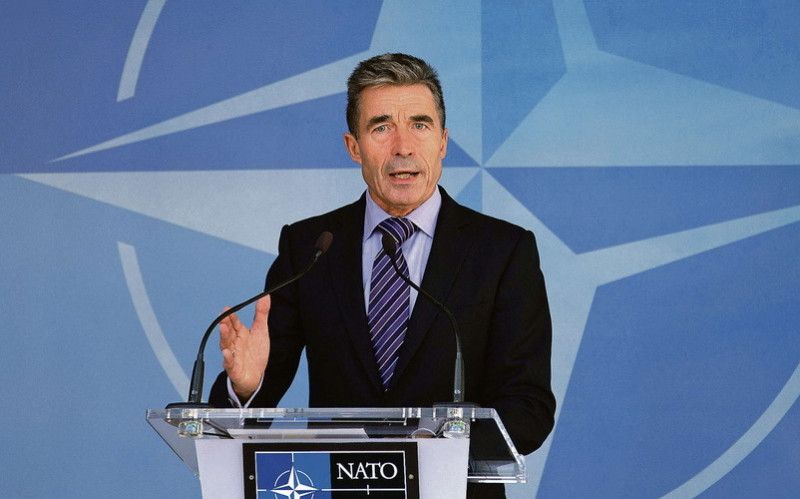 If truth be told, western politicians are often involved in lobbying activities and influence peddling once they quit active politics and this comes at the expense of links and networks they have established while in public jobs.
Regrettably, most of them often do a great disservice to the murky circumstances and grind their own axes by being after their financial gains. At this point, wide-ranging Armenian lobby and diaspora networks on the alert, driven by alien diktat and dirty money, come in handy to the service of dishonest politicians, like Anders Fogh Rasmussen, who posed for a photo opportunity at the entrance of Azerbaijan's Lachin corridor to prove to his financers that he was there, and sent the right message to the West that he deserved the right for another payment.
Under the guise of advising governments on different aspects of politics, they serve evil intentions and purposes thus paving the way to catastrophes and human losses. Armenia's cognac diplomacy and aggressive lobbying activities in the service of the West have given short shrift to the interests of natives of the South Caucasus and are pursuing the same line through criminal means under the pretense of lobbying.
Anders Fogh Rasmussen, who was the 24th prime minister of Denmark from November 2001 to April 2009, and the 12th NATO Secretary-General from August 2009 to October 2014, has forever tarnished the geopolitical image of the world's largest military and political alliance, by getting paid from Armenian oligarchs and visiting a rogue regime of Europe, US-based pundit Peter Tase said in remarks for Azernews.
Rasmussen, as a former secretary-general of NATO, had access to classified and military technology information; therefore, his international meetings require increased scrutiny and deserve greater attention from transatlantic printed media.
Former NATO Secretary General Rasmussen, through his recent visit to Yerevan, emerges as a lobbyist that is thirsty for cash regardless of its origin and the host country's reputation for committing ecocide and genocide against innocent children and citizens of Azerbaijan.
"Rasmussen's visit to Armenia, ruled by an autocratic, warmongering regime, shows once again how western European former government officials operate without any level of professional ethics, continue to refuse to strengthen democratic values across Europe, and do not encourage strong and transparent institutions," the US pundit said.
Rasmussen has made irreparable harm to himself and the entire NATO structure; given the fact that the Armenian government has strategic economic allies and political patrons that do not support European Union's principles and Yerevan's sponsors conduct large-scale hybrid warfare and harm Brussels' geopolitical interests in the Black Sea and across Eurasia.
Anders Fogh Rasmussen should be thoroughly investigated for conducting dirty, unethical business practices, and for engaging in influence peddling; as a result, his professional image is significantly corrupt and may therefore delegitimize democratic politics in his own country and abroad.
Rasmussen has tarnished the riches of the Judeo-Christian tradition and has violated the principal tenets of ethics in public service. At a time when Europe is faced with a large-scale military confrontation in its eastern borders; Rasmussen establishes professional contacts with the very same autocrats that are fanning the flames of war and turning into a second Hiroshima, a European territory that is almost two times larger than Luxembourg.
Anders Fogh Rasmussen, former secretary-general of NATO, and founder of Rasmussen Global political consulting organization visited Armenia for several days and had meetings with Armenian officials along with Armenian Defence Minister Suren Papikyan.
Addressing a news conference, Rasmussen made public the reason behind his paid visit to Yerevan, alleging that his intention was to help the Armenian government to bolster ties with the West and the EU, adding unashamedly that he visited the southern regions of Armenia "to see with his own eyes the results of Azerbaijan's aggression," at the same time, failing to say an opinion about Armenia's 30-year-long aggression and occupation of Azerbaijani lands.
"I visited the beautiful Jermukh and the mayor told me how the attacks of the Azerbaijanis had a negative effect on the city's tourism," Anders Fogh Rasmussen claimed.
"This blockade is neither humanitarian nor legal. I met people who lived in Nagorno-Karabakh and they talked about the crisis situation in Nagorno-Karabakh. The blockade means that only very small amounts of food or medicine can be delivered to Nagorno-Karabakh, which means that Nagorno-Karabakh lacks food or life-saving medicines. This is a humanitarian crisis that could turn into a humanitarian disaster. This blockade is illegal," he said, lying again and without realizing that if the road was blockaded, how "small amounts of food or medicine can be delivered".
Rasmussen Global is said to advise on security, transatlantic relations, and the European Union. The current Armenian government, disinterested in the military alliance with Russia and the Collective Security Treaty Organization, is keen on these areas. In 2016, Rasmussen Global consulted Ukraine's former leader Petro Poroshenko, and judging by the latter's legacy, we can be sure he did a disservice to Ukraine.
The former NATO secretary-general provides paid advice to state leaders who are interested in the security and economic institutions of the West. So, Nikol Pashinyan and his team need the same kind of advice. However, it remains to be seen whether or not his advice would work for Armenia or turn it into a second Ukraine in the hands of Moscow though this time Armenia and Armenians would not stand the pressure of the Kremlin even a single day.
---
Follow us on Twitter @AzerNewsAz