20 April 2018 15:13 (UTC+04:00)
2 841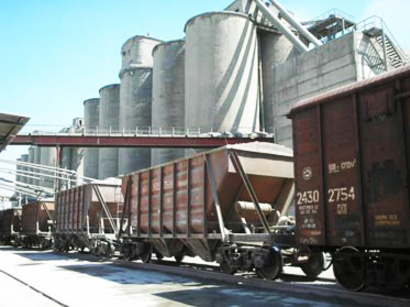 By Kamila Aliyeva
Tajikistan continues to increase production of cement and expand export of this construction material. The country increased cement exports by almost 2.5 times over the past year.
Meanwhile, in the first quarter of this year 322,000 tons of Tajik cement was supplied to the markets of neighboring countries. In January-March 2017, this figure stood at the level of 133,000 tons.
Tajikistan's cement plants produced 774,000 tons of cement in the first three months of this year, the Tajik Ministry of Industry and New Technologies said. This shows an increase of 348,000 tons compared to the same period of last year.
Taking into account the implementation of new infrastructure projects, construction of residential houses, as well as an increase in the volume of imports to neighboring countries, it is planned to increase production of this product even further
The main importers of Tajik cement are Uzbekistan and Afghanistan. As many as 172,000 tons of cement was delivered to Uzbekistan. The volume of exports to Afghanistan amounted to more than 131,000, while 19,000 tons of cement was exported to Kyrgyzstan during the first quarter of 2018.
Deliveries to Uzbekistan increased by 162,000 tons (16.3 times growth), to Kyrgyzstan - by 16,800 tons (6 times), and to Afghanistan - on the contrary, decreased by 10,600 tons (8.8 percent).
The main producers of cement in the first quarter of this year were joint Tajik-Chinese Chung Tsai Mohir Cement (33 percent of the total volume) and Huaxin Guyer cement companies (27 percent) located in Khatlon region.
In 2017, 3.1 million tons of cement was produced in the country, more than 1 million of which was exported to Afghanistan, Uzbekistan and Kyrgyzstan. The bulk of exports falls on Afghanistan.
At the same time, most of this product is being realized inside the republic and used for the construction of hydraulic structures, roads and bridges, houses and other infrastructure.
At present there are about thirteen cement production enterprises in the country whose capacity allows producing over 4 million tons of cement per year. However, only five cement enterprises are engaged in export. Currently, cement of brands 400, 500 and 600 is produced in Tajikistan.
Earlier, it was reported that the internal needs of the republic in cement are estimated at 3-3.5 million tons per year. The cement deficit in the country is covered by imports from Pakistan and Iran.
Tajikistan started deliveries of cement to neighboring countries in 2015. Then, only 500 tons of this construction material was exported. In the current year, the republic not only increased exports, but for the first time completely abandoned the import of cement.
Over the past eight years, China has helped Tajikistan to increase cement production by almost ten times through investing in the introduction of new facilities.
At the same time, these achievements are of concern to Tajik environmentalists, who believe that an increase in the number of cement plants causes irreparable harm to the environment and the health of the country's inhabitants.
---
Kamila Aliyeva is AzerNews' staff journalist, follow her on Twitter: @Kami_Aliyeva
Follow us on Twitter @AzerNewsAz
Related News