6 November 2017 15:54 (UTC+04:00)
2 149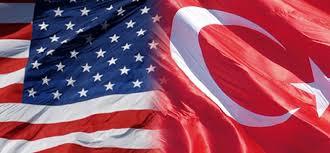 By Kamila Aliyeva
The Turkey-U.S. alliance goes back several decades with their relations being anchored in such international structure as NATO.
However, it seems to be not enough to stabilize the relationship at the time. Tension between the U.S. and Turkey has flared up after the recent arrest of U.S. Embassy's worker.
The U.S. and Turkey will discuss regional issues during the visit of Turkish Prime Minister Binali Yildirim to the U.S., the Turkish media outlets reported on November 6.
The visit is expected to take place on November 7 and last for four days.
The agenda of the forthcoming talks includes the crisis in the U.S.-Turkish relations, as well as the issue of extradition of Fethullah Gulen, who is accused of being involved in the 2016 military coup attempt in Turkey.
The U.S. special delegation arrived in Turkey on October 17 in an effort to resolve the crisis between the two countries which erupted following the arrest of an employee of the U.S. Consulate General in Istanbul.
As part of the negotiations aimed at normalizing Ankara-Washington ties, the U.S. delegation put forward a number of conditions. One of the conditions is to present evidence that the previously arrested U.S. consular officer in Turkey had links with Fethullah Gulen movement, as Turkish authorities claim. Moreover, Turkey should provide the U.S. with full information about the progress of the investigation.
The U.S. and Turkey previously suspended the mutual issuance of non-immigrant visas. This decision followed the October 4 arrest of a Turkish national who works at the U.S. consulate in Istanbul for alleged involvement in the July 2016 coup attempt aimed to overthrow the Turkish president.
Earlier, Turkish President Recep Tayyip Erdogan said that the U.S. should think about how the members of the Fethullah Gulen organization infiltrated the ranks of embassy workers. He also said that Ankara no longer considers Ambassador John Bass as the U.S. representative to Turkey.
This latest incident aggravated the already tense relationship between Washington and Ankara. The two countries have clashed over the U.S. support for Kurdish rebels in Syria as well as Turkish demands that the United States extradite Fethullah Gulen, a cleric whom Ankara blames for a military coup attempt of last July.
In addition, Ankara's rapprochement with Russia and purchase of S-400 missiles become the subject of criticism by the U.S.
---
Kamila Aliyeva is AzerNews' staff journalist, follow her on Twitter: @Kami_Aliyeva
Follow us on Twitter @AzerNewsAz
Related News