22 August 2017 14:53 (UTC+04:00)
13 899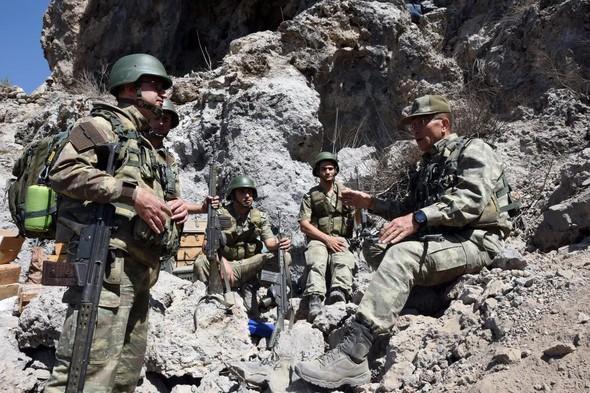 By Ali Mustafayev
Ankara has signaled possibilities of Turkey-Iran joint operation against the PKK terror group, and its branch the Kurdistan Free Life Party (PJAK), amid the rising tension close to their borders.
Turkey and Iran are planning to conduct a joint military operation against the PKK in the north of Iraq in stages, Trend reported citing Turkish media on August 22.
Reportedly, firstly the Turkish Air Force will bomb 19 positions of the PKK in the areas of Zap, Berwari, Batuf, Chemch and Avashin.
The military operation will be carried on the territory of Iraq, 19 km from the Turkish border. The first stage of the operation is expected to last 8-10 days.
During the second stage of the operation, the Iranian Armed Forces will begin ground operations in the Qandil Mountains in northern Iraq.
Roughly 42.000 Iranian soldiers will take part in the land operations, while the land troops will be supported by the Turkish military aircrafts.
Turkish media reports that Ankara and Tehran also intend to establish a joint military base in the north of Iraq.
Previously, President Recep Tayyip Erdoğan said that "a joint operation with Iran against terror groups that are posing threat is always on the agenda."
"We have discussed the details on what kind of work we can carry out amongst us. There are damages that the PKK and its branch in Iran causes. We will carry out these discussions with the understanding that the threats can be defeated with the cooperation of both countries in a short time," Erdoğan said.
The PKK, listed as a terrorist organization by the U.S. and EU, resumed its nearly 40-year armed campaign against the Turkish state in July 2015.
The PJAK, which is associated with the Kurdish Communities Union (KCK), the umbrella organization for the armed terrorist organizations the PKK, is the Iranian branch of the terror group. In Syria, the group goes by the Democratic Union Party (PYD) and its armed wing the People's Protection Units (YPG).
Although the PKK was headquartered in Syria until 1998, currently, the terrorist organization is controlled from its headquarters in northern Iraq's Qandil Mountains, according to Daily Sabah.
---
Follow us on Twitter @AzerNewsAz
Related News