Trilateral meeting on Trans-Caspian pipeline to be held in fall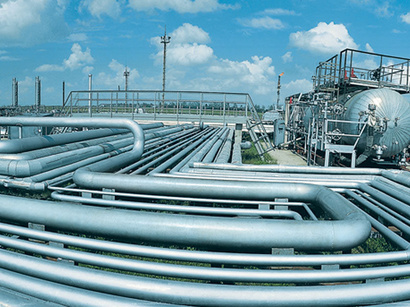 By Aynur Karimova
Azerbaijan, Turkmenistan and Turkey are planning to discuss the prospects of the Trans-Caspian gas pipeline construction this autumn.
The discussions will be held at a high level in Turkmenistan, a source close to the negotiations told Trend.
Earlier the Turkmen media outlets reported that the relevant issue has been recently discussed at the governmental meeting.
Neutral Turkmenistan newspaper reported that while discussing the preparation for the forthcoming trilateral meeting, Turkmen President Gurbanguly Berdymukhamedov stressed its importance for the further strengthening of the traditional relations of friendship and mutually beneficial partnership among the three countries and nations.
"Turkmen, Turkish and Azerbaijani people are united by the centuries-old historical and cultural community and fraternal relations," Vatan newspaper quoted Berdymukhamedov as saying. "Today these relations are a solid foundation to intensify and expand the fruitful cooperation among our countries."
Berdymukhamedov instructed to properly organize the meeting, designed to give a new impetus to the trilateral cooperation that meets the interests of general well-being and prosperity.
The 300-kilometer Trans-Caspian Pipeline is widely regarded as the optimal option to deliver 30 billion cubic meters of Turkmen blue fuel under the Caspian through Azerbaijan to European consumers.
Energy-rich Turkmenistan – which ranks fourth in the world in terms of the volume of gas reserves after Russia, Iran and Qatar, and produces about 70-80 billion cubic meters of gas a year – is keen on increasing and diversifying the supply of its huge volume natural gas to Europe.
Recently, as Azerbaijan together with its European allies commenced the construction of the Trans-Anatolian Pipeline, which would then connect to the Trans-Adriatic Pipeline and carry Azerbaijan's natural gas to Europe, Turkmenistan has expressed interest in the realization of the Trans-Caspian Pipeline.
The construction of the Trans-Caspian Gas Pipeline will greatly expand the diversification of the Turkmen natural gas supply routes, as well as create an additional guarantee for the reliable and stable export of Turkmen energy resources to international markets.
Azerbaijan is also interested in the construction of the Trans-Caspian Pipeline as it can provide huge benefits from the transportation the Turkmen gas via its territory.
The project is in the strategic interest of Europe at a time when the EU is trying to decrease its dependence on Russian gas.
--
Aynur Karimova is AzerNews' staff journalist, follow her on Twitter: @Aynur_Karimova
Follow us on Twitter @AzerNewsAz