Ukrainian crisis – the last blow to South Stream project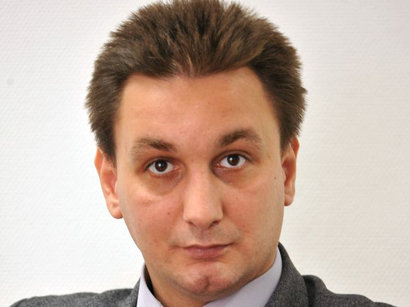 By Vagif Sharifov
Trend Agency's Deputy Director General, oil markets expert, Vagif Sharifov discussed the situation on the oil market, the influence of oil prices on Russia as well as the cancelation of the South Stream gas pipeline project with UK's first radio station dedicated to providing information on handling money and investments - Share Radio.
Firstly, this morning's oil markets?
Well fortunately for transport, airlines and unfortunately for oil producing companies the price for oil still continues to fall. The price of OPEC basket of twelve crudes stood at $67 per barrel. Brent for January delivery is $69 per barrel. WTI for the same month settlement is $66 per barrel. But I should say that the polls among market makers show good expectations, as Brent is estimated to be $85 per barrel next year, while WTI - $80 per barrel. In 2016, Brent is estimated to be $90 per barel. In any case, IMF thinks drop in oil prices will provide a net boost to the global economy.
How have low prices impacted Russia?
They sure have impacted Russia. Oil and gas provide almost 70 percent of the country's exports and 50 percent of its state budget. Russia has already lost almost $90 billion of its currency reserves this year as it tried to prevent the ruble from tumbling after sanctions, because of tensions with Ukraine. The Russian ruble is down more than one third against the US dollar since June and since the oil have started to fall. It is now 85 rubles per 1 British pound.
Cancellation of South Stream has led to angry reactions in Eastern Europe – what is the significance of this?
First of all Bulgaria still has not given permission for the construction of the subsea part of the South Stream. But it seems to me that Russia stopped the construction of the pipeline due to high cost, not because of Bulgaria's position. Now is not the time for such a huge investment taking into account what is going on with oil prices and Russian's state budget deficit because of that. The second point is Ukrainian crisis which has become the final blow to the South Stream. Russia might have hoped that increased instability in Ukraine would convince the EU of the necessity of South Stream but the EU has responded by doing the opposite.
What is needed for Russia to turn their economy around?
First of all they need the price of oil at least $100 per barrel. It is the least price for their budget because every $1 drop in global oil prices deprives the Russia of about $2 billion. As many other oil producing countries do - they should escape from the strong oil export dependence, and develop non-oil sector as quickly as possible.