27 August 2013 11:21 (UTC+04:00)
1 766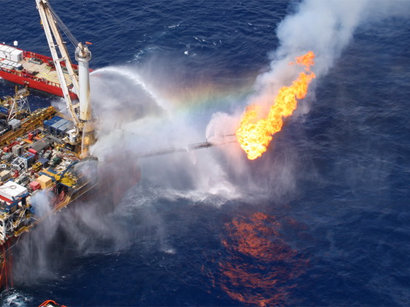 By Aynur Jafarova
Azerbaijan's state energy company SOCAR localized fire in the exploration well in Bulla-Deniz field in the Azerbaijani section of the Caspian Sea and stopped its horizontal spread, SOCAR reported on August 26.
According to SOCAR's report, fire spread after breakdown in the well has created a high temperature zone in the radius of 350 meters. As a result of implemented work fire was localized and directed vertically.
As a consequence, approach of ships and personnel to the close distance of the well became possible, the report said.
A water curtain was created as a result of regular watering of six fire extinguishing ships to the well and its close areas.
The fire could be extinguished. However, it was decided to prevent the breakdown by continuous burning of gas to prevent the sea pollution and maintenance of safety of workers who are on the platform.
In this purpose, full fire extinguishing was considered as inappropriate, SOCAR said.
The investigation group under Security Management of SOCAR was able to close to a distance of 2 - 3 meters to the well and to receive detailed information on the status of the platform and equipment.
An action plan was drafted on the basis of information obtained here.
Currently work is underway to eliminate breakdown.
SOCAR official Khalig Mammadov told journalists that important technical work was carried out within the fire extinguishing in the Bulla - Deniz field.
According to him, fire has not been extinguished yet. However, active work is being implemented to this end.
The fire engulfed exploration well No.90 in the northeast wing of the Bulla-Deniz field. The sea depth at the field is 26.5 meters.
According to SOCAR, ignition happened at night on August 17 during drilling at a depth of 5,868 meters. An open gas blowout took place at 23:30 local time which was followed by fire. As a result of the accident, some 62 platform workers were evacuated and there are no victims.
Earlier SOCAR head Rovnag Abdullayev told journalists that SOCAR is conducting work on developing a program to rectify the consequences of the accident that took place at the Bulla-Deniz field.
According to him, SOCAR specialists and the Azerbaijani Ministry of Emergency Situations are conducting work at the accident site.
Also, according to Abdullayev, British BP which is a partner in major oil and gas projects in Azerbaijan has offered its assistance.
Abdullayev said that currently work is being conducted to identify the cause of the accident. According to preliminary data, the reason for the accident was high pressure which emerged when passing the productive layer on the eighth horizon.
Abdullayev noted that extinguishing the fire is not a big problem and the situation is currently under control.
The main task which currently stands before SOCAR is to save the well which has demonstrated great potential.
The elimination program that is being developed primarily implies saving the productive well.
Related News