26 February 2013 16:45 (UTC+04:00)
1 135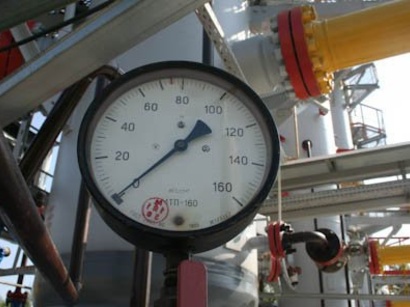 Iranian and Pakistani presidents will formally inaugurate the Iran-Pakistan gas pipeline's construction plan by the end of the current Iranian calendar year (March 20), Iranian deputy Oil Minister Javad Owji said on Monday.
The two countries have finalised details of the pipeline's construction project, Mehr news agency quoted Owji as saying.
An Iranian contractor will lay some 780 kilometres of the pipeline across Pakistan soil in 22 months, he said.
Owji went on to note that Iran plans to extend its seventh cross-country pipeline from the south-western port city of Assaluyeh to the south-eastern city of Iranshahr and from there to the Pakistani border.
By extending the pipeline, Iran can also supply gas to its eastern provinces, he said.
Iran plans to make the south-eastern port city of Chabahar the country's third petrochemical hub, Owji added.
Pakistani President Asif Ali Zardari is currently in Tehran to finalise the deal on the multi-billion dollar Iran-Pakistan (IP) gas pipeline project.
Based on the agreement that was reached in Islamabad earlier this month, Pakistan will pay back Iran's $500 million loan after the peace pipeline's inauguration. It is projected to come on stream in 2014.
Iran and Pakistan have devised a plan to finance the gas pipeline on Pakistan's side without the need for Islamabad to transfer funds to Tehran.
Based on the agreement, Tehran will grant a $500 million loan to the Tehran-based Tadbir Energy Development Group which is responsible for laying the pipeline in Pakistan under the project.
In the first phase, Iran will lend 250 million dollars and extend the assistance later to 500 million dollars.
The Tadbir Energy Development Group has agreed to complete the project in 15-16 months.
The Iran-Pakistan gas pipeline, projected to cost 1.2-1.5 billion dollars, would enable the export of 21.5 million cubic meters of Iranian natural gas to Pakistan on a daily basis.
Iran has already constructed more than 900 kilometres of the pipeline on its soil.
Related News