Russia, Azerbaijan discuss cooperation in energy sector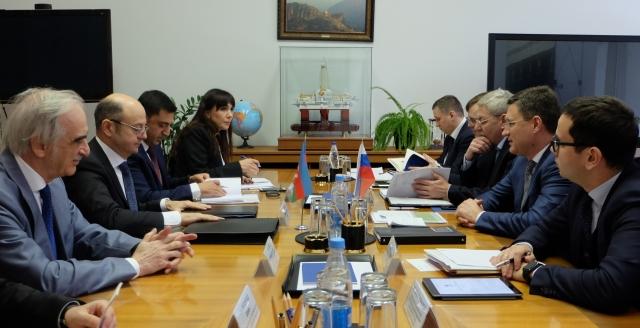 By Sara Israfilbayova
Azerbaijan and Russia discussed the state and prospects of cooperation in a bilateral and multilateral format, as Energy Ministers of the two countries met in Moscow.
Parviz Shahbazov (Azerbaijan) and Alexander Novak (Russia) noted cooperation in the field of oil products supply, issues of natural gas supplies, as well as cooperation in the field of electric power industry as priority areas for collaboration.
During the meeting, issues of cooperation on implementing agreements in the format of OPEC+ were touched upon. In particular, the Russian minister noted Azerbaijan's important contribution to the joint efforts of the OPEC states and not OPEC to stabilize the oil market.
Novak noted that the Gas Institute of the Gas Exporting Countries Forum (GECF) is expected to play an important role in the work of the forum.
"We believe that the Institute should become the main coordinating center for uniting the efforts of leading scientific organizations in the member states of the forum with a view to conducting research in which all GECF participants are interested," the Russian minister added.
The GECF is an intergovernmental organization of the world's leading natural gas producers made up of Algeria, Bolivia, Egypt, Equatorial Guinea, Iran, the UAE, Libya, Nigeria, Qatar, Russia, Trinidad and Tobago and Venezuela. The organization's members together control over 70 percent of the world's natural gas reserves.
Azerbaijan, Iraq, Kazakhstan, the Netherlands, Norway, Oman and Peru have the status of observer members. Azerbaijan joined the GECF as an observer member on November 21, 2015 during the 17th GECF ministerial meeting.
Azerbaijan is one of the main economic partners of Russia among the CIS countries. Interregional cooperation plays an important role in the development of Russian-Azerbaijani trade and economic relations and the increase in trade turnover.
Azerbaijan's first trade representative was appointed to Russia.
Trade representative's main mission is to take measures to expand Azerbaijan`s economic and trade relations with Russia, protect economic interests of Azerbaijan, increase export of Azerbaijani goods and services, promote Azerbaijan's business environment and investment opportunities.
Azerbaijan seeks to open Trade House in Russia's Arkhangelsk region as well.
The trade turnover with Russia amounted to $1.89 billion in January-November 2017, according to Azerbaijan's State Customs Committee.
---
Follow us on Twitter @AzerNewsAz