Adding Iranian gas to TAP, TANAP could benefit Europe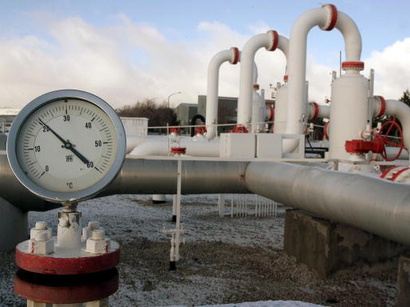 By Trend
Adding Iranian gas to the Trans Adriatic Pipeline (TAP) and Trans Anatolian Pipeline (TANAP) projects could benefit Europe, Jim Krane, Middle East energy analyst, Rice University's Baker Institute, Houston, told Trend May 18.

"Iranian gas should be a welcome addition to the TAP and TANAP pipelines for several reasons. First, Iranian gas would increase the diversity of natural gas supplied to Europe, increasing the EU's security of supply," he said.

Krane believes that adding Iran to the roster of gas exporters also increases the long-term viability of the pipeline, reassuring investors as well as European utilities and industry that the project will succeed.

Increasing the supply of gas -- from whatever source -- would also act to bring down gas prices in Europe, which would help force coal out of the power market, with environmental benefits for all, according to the expert.

"Further, Iranian gas would bring some geopolitical benefit to European countries attempting to reduce Russian influence in their energy sectors," he said. "If Iran joins the supply consortium, it might even reduce the available pipeline volumes that Russia is seeking to fill."

Finally, increasing Iran's economic integration into the region might even moderate Iranian foreign policy, according to Krane.
Iran has announced repeatedly about its willingness to export natural gas (methane) to European markets via pipeline or LNG. Iran has a semi-finished LNG plant, suspended mid-2000s due to sanctions, but hasn't re-launched the plant yet. The capacity of project is 10.4 million tons per year of liquefaction of natural gas.
Iran also have to construct a $6 billion 1800-km pipeline, stretched from South Pars to Turkey borders.
Then it may be able to supply gas to TANAP, connected to TAP in Europe in case the shareholders of projects show green light.
TANAP project envisages transportation of gas from Azerbaijan's Shah Deniz field to the western borders of Turkey. The length of TANAP is 1,800 kilometers with the initial capacity of 16 billion cubic meters. Around six billion cubic meters of the gas will be delivered to Turkey and the remaining volume will be supplied to Europe.
The gas will be delivered to Turkey in 2018 and after completion of the Trans-Adriatic Pipeline's construction the gas will be delivered to Europe in early 2020.
TAP is a part of the Southern Gas Corridor, which is one of the priority energy projects for the European Union. The project envisages transportation of gas from Azerbaijan's Shah Deniz Stage 2 to the EU countries.
The pipeline will connect to the Trans Anatolian Natural Gas Pipeline (TANAP) on the Turkish-Greek border, run through Greece, Albania and the Adriatic Sea, before coming ashore in Italy's south.
TAP will be 878 kilometers in length (Greece 550 kilometers, Albania 215 kilometers, Adriatic Sea 105 kilometers, and Italy 8 kilometers).
TAP's shareholding is comprised of BP (20 percent), SOCAR (20 percent), Snam S.p.A. (20 percent), Fluxys (19 percent), Enagás (16 percent) and Axpo (5 percent).
---
Follow us on Twitter @AzerNewsAz