Russian expert names elections in Armenia a 'crook business'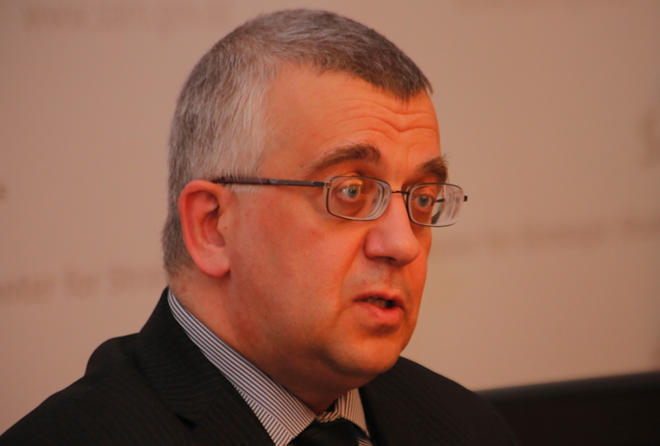 By Rashid Shirinov
The April 2 parliamentary elections in Armenia were engulfed in total fraud and violations. Anyway, the ruling Republican Party of Armenia won the elections with 49.12 percent of the vote, and this doesn't bode well for the resolution of the long-lasting Nagorno-Karabakh conflict, experts say.
"The victory of the ruling Republican Party in the parliamentary elections in Armenia suggests that the status quo in the Nagorno-Karabakh conflict will not change," said Oleg Kuznetsov, Russian political scientist.
He told Trend on April 3 that the party of incumbent President Serzh Sargsyan is quite satisfied with the lack of resolution to the conflict.
Armenia broke out a lengthy war against Azerbaijan laying territorial claims on its South Caucasus neighbor. Since a war in the early 1990s, Armenian armed forces have occupied 20 percent of Azerbaijan's territory, including Nagorno-Karabakh and seven surrounding regions. More than 20,000 Azerbaijanis were killed and over 1 million were displaced as a result of the large-scale hostilities.
Armenia has not yet implemented four UN Security Council resolutions on withdrawal of its armed forces from the Nagorno-Karabakh and surrounding districts.
Kuznetsov went on to say that by changing the form of government in the country, Serzh Sargsyan has retained pre-existing political regime and even strengthened it through constitutional and legal reform.
Another Russian expert Evgeny Mikhailov, in turn, told Trend that the victory of the Republican Party of Armenia will bring nothing positive to the people of this country.
"Armenia's population will continue leaving the country, and Sargsyan will continue to escalate the tension around the Nagorno-Karabakh conflict and instill even more hatred against Azerbaijanis," he said.
Mikhailov also noted that Azerbaijan, unlike Armenia, leads quite a different policy in the Nagorno-Karabakh issue.
"Baku has even created a platform for peaceful resolution of the conflict, where Armenians who want peace with Azerbaijan actively participate," the expert noted.
The Armenia-Azerbaijan Peace Platform was founded on December 6, 2016 in Baku. It was created to bring together representatives of civil society of the two countries for creating dialogue between Azerbaijan and Armenia. However, this initiative was negatively perceived by the Armenian government, which started persecution of those Armenians who joined the Platform.
---
Rashid Shirinov is AzerNews' staff journalist, follow him on Twitter: @RashidShirinov
Follow us on Twitter @AzerNewsAz