President Aliyev: Our goal to enhance, strengthen Turkish-Azerbaijani unity - UPDATE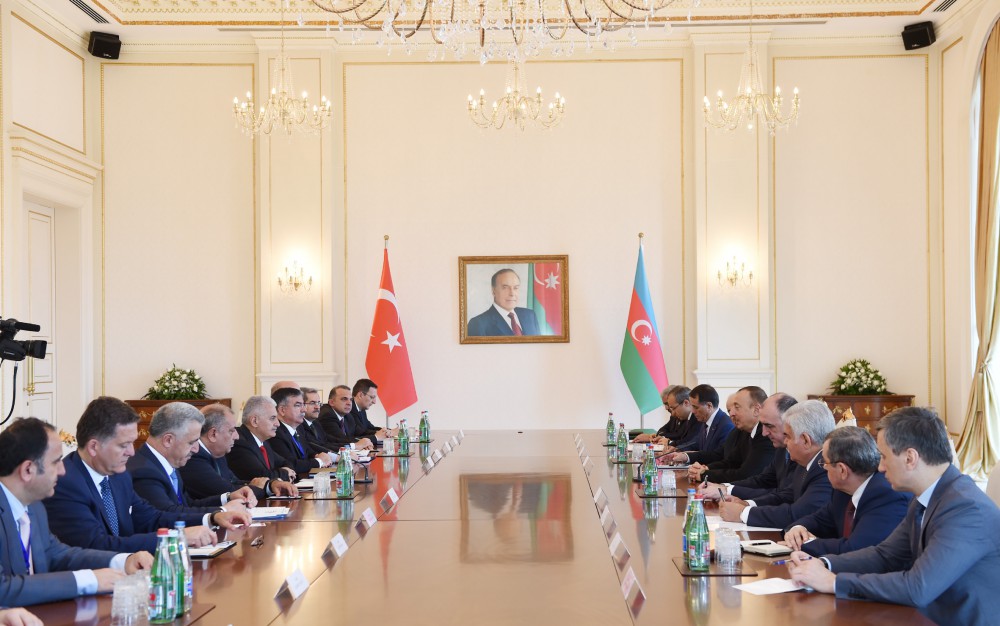 Azerbaijani President Ilham Aliyev and Turkish PM Binali Yildirim met in the expanded format June 3 in Baku.
Azerbaijani president welcomed the Turkish delegation.
""First of all, on behalf of the Azerbaijani people I'd like to once again cordially congratulate you on your appointment to such a high post of prime minister. I wish you great success on your post," Ilham Aliyev said to Binali Yildirim.
"I am very glad that you are making your first official foreign visit to Azerbaijan," the president said. "It makes us very happy, and it is natural. That's a great tradition. This shows once again that the Turkish-Azerbaijani relations are at the highest level," said the president.
The president further noted that at the one-on-one meeting the sides had an exchange of views on the settlement of bilateral issues, and as usual, there were no differences in opinions.
Our goal is to strengthen and further enhance the Turkish-Azerbaijani unity, said Ilham Aliyev.
Azerbaijan, yesterday, immediately condemned the German parliament's unfair and biased resolution, which is based on the historical lie, said President Aliyev.
"Azerbaijan's Foreign Ministry had issued a statement, and today, I, as the country's president, once again condemn that provocation, which was built on the lies. That is an injustice, double standards and distortion of the history," said President Aliyev.
---
Follow us on Twitter @AzerNewsAz