4 May 2016 17:40 (UTC+04:00)
1 729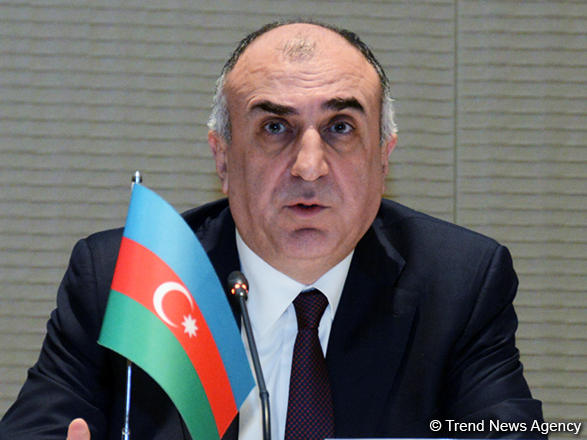 Azerbaijan has once again stated that it stands for peaceful resolution of the Nagorno-Karabakh conflict, stressing that it will not make concessions on its territorial integrity.
Azerbaijan's Foreign Minister Elmar Mammadyarov, addressing the meeting of Ministers of Foreign Affairs of the Visegrad Group and of the Eastern Partnership countries in Prague, emphasized that the presence of Armenian armed forces in Azerbaijan's occupied Nagorno-Karabakh region and seven surrounding regions is the main reason of instability and frequent armed clashes on the line of contact.
"Armenia continues to ignore the calls of the international community for changing the status quo in the Nagorno-Karabakh conflict," said the minister, adding that the provocative actions of Armenian armed forces on the line of contact in early April led to an unprecedented escalation of the situation in the conflict's history.
Mammadyarov said that Azerbaijan is interested in the continuation of the negotiation process, noting that the "Road Map" of peace and stability is clear and is based on the international law.
"Like the Visegrad Group and Eastern Partnership countries, Azerbaijan will not make concessions on its territorial integrity," said Mammadyarov. "As required by the UN Security Council's resolutions, Armenian armed forces should be unconditionally withdrawn from the occupied territories and the safe return of the IDPs to their homeland should be ensured."
Armenia has occupied 20 percent of the Azerbaijani territory in the early 1990s. As an outcome of the war, more than one million of people have been subjected to the ethnic cleansing by Armenia. The occupation of the territory of the sovereign state with its internationally recognized boundaries has been left out of due attention of the international community for years which resulted in the renewal of hostilities in early April.
The renewed hostilities, which are regarded as the worst since the ceasefire deal signed in 1994, ended on April 5. Although both sides agreed to cease the operations on the frontline, Armenia still continues its provocations on the frontline and targets Azerbaijani civilians living in the villages adjacent to the frontline zone.
Cooperation with European Union
Mammadyarov, speaking about Azerbaijan's ties with the European Union, underlined that his country is interested in developing dialogue with the EU under the terms of strategic partnership.
"The growth in number of the EU partners inspires Azerbaijan to continue cooperation with the organization under the terms of the strategic partnership, said Mammadyarov.
Reminding that Azerbaijan has presented to the EU a draft agreement on strategic partnership, he expressed confidence that the agreement will raise bilateral cooperation to a higher level and will play the role of a platform for future EU-Azerbaijan relations.
Under the new agreement, it is planned to adjust the Azerbaijani legislation and procedures to EU's most important trade norms and standards, meant to improve the delivery of Azerbaijani goods to the EU markets.
Currently, the bilateral relations between the EU and Azerbaijan are regulated on the basis of a partnership and cooperation agreement, which was signed in 1996 and came into force in 1999
---
Follow us on Twitter @AzerNewsAz
Related News