5 April 2016 16:15 (UTC+04:00)
1 545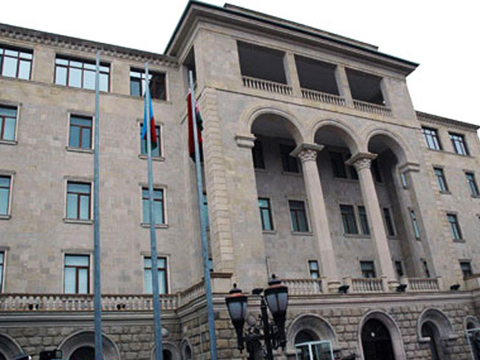 The Azerbaijani Defense Ministry has issued a press statement on provocative information spread by Lifenews TV channel, saying that in the face of defeat, the military and political leadership of Armenia has been benefiting from provocative information released by anti-Azerbaijani mass media.
"The information about Azerbaijanis fighting for ISIL terror organisation in Syria crossing Turkish territories to come to Azerbaijan and fight against Armenians in Karabakh is absolutely groundless and a disinformation," the report reads.
"Military technical capabilities and potential of Azerbaijan Armed Forces are fully sufficient in terms of ensuring at the highest level the sovereignty, territorial integrity and inviolability of our country.
We would like to reemphasize that any terror organization irrespective to its members' nationality, religion and others does pose a serious threat to international peace and security as well as national security of Azerbaijan. Any member of terror organization attempting to enter to the territory of Azerbaijan by any intention will be prosecuted."
Long-simmering tensions between Armenia and Azerbaijan flared again on April 2 when the Armenian side began to shell the Azerbaijani positions and settlements along the frontline.
To protect civilian population, the Azerbaijani Armed Forces launched counter attacks and repulsed the enemy forces back. Six Armenian tanks, 15 gun mounts and reinforced engineering structures have been destroyed and more than 100 Armenian servicemen were wounded and killed during the shootouts.
Twelve servicemen of the Azerbaijani armed forces heroically died, one Mi-24 helicopter was shot down and one tank damaged by a mine.
Despite Azerbaijan's decision on unilateral suspension of the counter-attacks and response measures in the territories occupied by Armenia, the Armenian Armed Forces resumed shelling of Azerbaijani positions along the line of contact on the night of April 4.
As a result of the counter-attack, Azerbaijan's Armed Forces neutralized up to 170 servicemen and 12 units of armored vehicles of the Armenian side
During the counter-attack carried out by the Azerbaijani Armed Forces, up to 70 people and around 20 military equipment of Armenia were destroyed from April 4 to the morning of April 5.
The loss of the Azerbaijani army was 16 people in the past two days.
Realizing that their attempt to regain lost positions in the Khojavend-Fuzuli and Terter-Aghdere direction does not give any result, the Armenian army continues to shell villages located near the frontline and tries to destroy the infrastructure of Azerbaijan's frontier regions.
Azerbaijan and Armenia have agreed to cease operations on the line of contact starting from 12.00, April 5.
---
Follow us on Twitter @AzerNewsAz
Related News