President Aliyev meets with Azerbaijani youth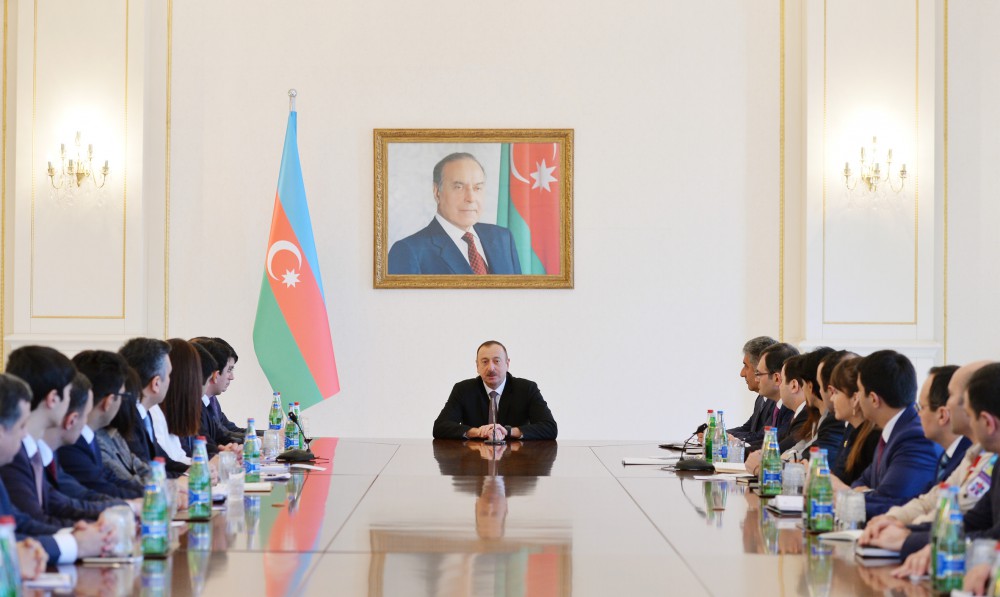 By Nigar Orujova
President Ilham Aliyev met with a group of the country's youth on the occasion of the 20th anniversary of the First Forum of Azerbaijani Youth, on January 29.
A group of youth received honorary diplomas of the Azerbaijani President for their contribution to the execution of the youth policy in the country.
Chairman of the Public Council for Work with Youth under the Ministry of Youth and Sport Nuraddin Mehdiyev said youth and youth foundations in Azerbaijan had always felt attention and care of the head of state, and thanked the president for this care.
Chairman of "ASAN Volunteers" Youth Organization Farid Sadikhli said there were more than 3,000 youth organizations in Azerbaijan. He put forward some proposals related to Youth Houses, vocational education, and foreign education programs.
The head of state said the volunteers movement had a bright future in Azerbaijan. Noting the importance of the fact that vocational education became popular in the country, President Aliyev said the world's leading high schools open their branches in Azerbaijan.
Azad Rahimov, Youth and Sport Minister said several Youth Houses opened in capital Baku, adding this process will continue.
Chairperson of the Economic and Management Sciences Student Association Maryam Majidova put forward proposals concerning the development of informal education and organization of quizzes.
The head of state welcomed the idea to organize a number of international quizzes in Azerbaijan.
Coordinator of Model UN Azerbaijan project Elmira Mammadova highlighted the issue of representation of Azerbaijan in international organizations.
The head of state said Azerbaijan maintained excellent relations with all international organizations, including the United Nations, and praised the youth's representation in international organizations.
President Aliyev also refused foreign media reports alleging that Azerbaijan appealed to foreign financial institutions for assistance.
Young entrepreneur, member of Global Shapers Community of the World Economic Forum Mushfiq Hasanov spoke of the creation of wider opportunities for young entrepreneurs.
President Aliyev said wide privatization program will stimulate the development of entrepreneurship.
The foreign relations secretary at "Ganja 2016 – European Youth Capital" organization, Aysun Zeynalova, highlighted what had been since Ganja was proclaimed the European Youth Capital.
The head of state expressed his confidence that Ganja would excellently host the event.
Executive Director of the Youth Fund under the President, Farhad Hajiyev, spoke of the projects implemented by the fund.
President Aliyev said the fund will further receive support and financial assistance.
Chief Specialist at the Heydar Aliyev Center Zafiq Khalilov raised the issue of involving youth in scientific researches.
The head of state stressed the importance of the issue.
__
Nigar Orujova is AzerNews' staff journalist. Follow her on Twitter: @o_nigar
Follow us on Twitter: @AzerNewsAz