ASAN to provide more e-services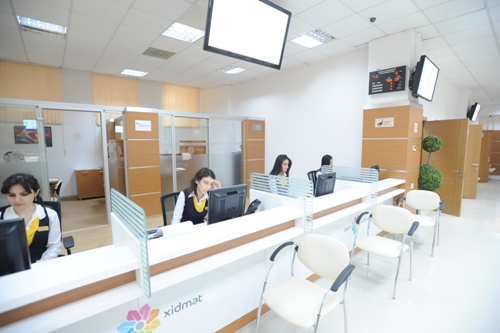 By Nigar Orujova
Azerbaijan is gradually switching to rendering more efficient electronic services after President Ilham Aliyev signed a decree on increasing transparency in the provision of public services and the electronization of residence registration and licensing.
The decree states that the electronic services play an important role in the development of all spheres of social life, as well as in business and the economy.
The document noted that certain public entities are providing services to the population without the proper use of modern technologies and, as a result, without providing the required level of transparency.
The electronization of procedures in granting of special licenses, certificates, and other documents to legal entities and individuals engaged in entrepreneurial activities is expected to increase efficiency in the development of entrepreneurship.
The decree provides for the issuance of certificates and licenses for persons who are registered at a place of residence with the following rules: drawing up reference in an electronic order using data from the interagency system and other information systems; preparation of a certificate based on the ID card of citizens and without requiring any additional documents; the issuance of certificates without delay on the day of the appeal.
The relevant authorities were charged to implement the order.
Deputy Head of ASAN Service Ulvi Mehdiyev says that now, a certificate of residence (Form 2), which was previously issued by the public utilities service provider, will be issued by the Interior Ministry at ASAN service, along with other certificates and licenses.
"Starting today, we will negotiate with the relevant structures in order to promptly proceed with the issuance of these documents," he said on September 1.
He went on to add that an electronic portal will be created to facilitate the issuance of licenses.
That is, if a citizen intends to engage in activities requiring a special permit, he or she will be able to send the documents in electronic form to obtain a license in e-form as well.
Azerbaijan's network of simplified access to government services, known as ASAN Service, was established in July 2012. It is based on the principles of interoperability, transparency, ethical behavior, responsibility, and comfort.
ASAN Service is aimed at reducing the extra expenses and loss of the time by the citizens, upgarding the level of professionalism, strengthening confidence towards the state structures, increasing transparency, strengthening the fight against corruption, ensuring a greater use of e-services, etc.
There are five ASAN services in Baku, as well as ASAN braches in the countries second largest city of Ganja, the industrial city of Sumgayit, as well as two centers in Barda and Sabirabad.
This summer, ASAN Service was awarded the 2015 United Nations Public Service Award. It is the highest prize for the improvement of public services.
__
Nigar Orujova is AzerNews's staff journalist, follow her on Twitter: @o_nigar
Follow us on Twitter @AzerNewsAz