Armenian lies becoming pandemic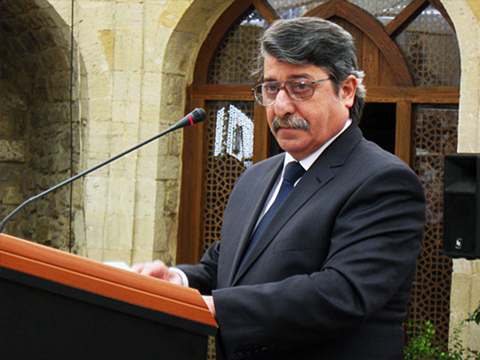 By Mushvig Mehdiyev
Baku condemned Yerevan for deliberately falsifying history in view of promoting its propaganda agenda, Azerbaijani official warned.
Azerbaijan's Copyright Agency said books written by foreign authors following Armenia's strict orders aim to propagate Yerevan's poison to the world, while rallying more people to support its campaigns in the region.
"Certainly, we have fought against such lies before and we will continue to fight on. We exposed their lies before and we will expose them now as well," Head of the agency, Kamran Imanov said at the conference "Author and Hypocrisy, Book and Lie" dedicated to the World Book and Human Rights Day on April 21.
Referring to famous Austrian writer, Erich Feigl's "Armenian mythology" book, Imanov said the peculiarity of the Armenian terrorism focuses on the falsification of historical facts. "The uniqueness in Armenian terror's character is to re-write history in its own way and to invent a mythological history in an effort to justify its bloody activity," noted Imanov.
Armenia contradicts the principle of cultural exchange since its sponsored books introduce and promote both a dangerous political mythology and historical lies. If a book contains calls for the occupation of foreign lands and the cultural heritage of other nations, ethnic cleansing and xenophobia, it overtly rules down cultural exchange.
"Armenia has developed a "national talent" when it comes to create myths about "Great Armenia" or "great Armenian culture" or again the "Armenian genocide"," Imanov said.
Creating myths has become one of Armenia's hobbies. One interesting fabrication coming from Armenia has been the idea that Azerbaijan's culture was the product of "smart Armenian thinking", Imanov said.
Unlike other nations, Armenians have been forced to steal from other cultures and histories to build their own "fantasy", looting the corridors of history to justify their crimes and abuses against humanity.
In addition, Imanov went on to say that the geopolitical character of Armenia's policy unlike other nations has been well proven by political experts. Armenians have created fake geopolitical maps of those regions they want to claim as being part of "Armenia". About 28 such "Armenias" can be exampled today.
"A question arises here: history of which "Armenia" are you writing about? Over the centuries Armenians have stolen the cultural heritage of the Azerbaijani people through the principle of "came, saw and abused," Imanov said.
The lie detector, a technology developed by the Caucasian History Center in Baku, unmasked many of Armenia's falsifications when it comes to its historiography, destroying the postulates of Armenians about their autochthony in the Caucasus.
For example, A survey conducted by the lie detector proves that Armenians never had any ties to the Nagorno-Karabakh region, said Fuad Akhundov, head of the lie detector project.
Azerbaijan's internationally recognized Nagorno-Karabakh territory has become a conflict zone following Armenia's aggression in the early 1990s. As a result of Armenia's armed invasion, 20 percent of Azerbaijan's territory fell under Armenia's occupation.
- - -
Follow Mushvig Mehdiyev on Twitter: @Mushviggo
Follow us on Twitter: @Azernews