Fish plants prepares to release fingerlings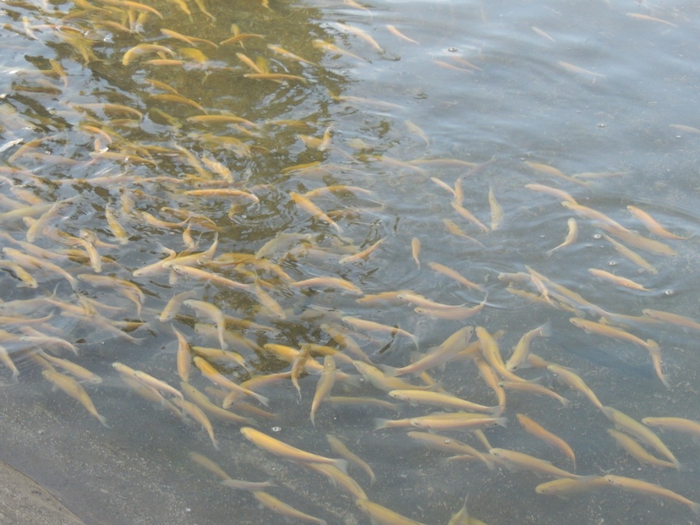 By Nigar Orujova
As the fish population in the Caspian Sea has dramatically dropped over the past few years, Azerbaijan has intensively looked to restore balance in the fish population by releasing farm-raised fingerlings into the wild and thus contribute to repopulating the waters of the Kura.
It plans to plant millions of fish into the ecosystem.
This April-May, Tovuz fish breeding plant-farm - north-west of Azerbaijan - will release 8-10 million fish into the Kura River. The river runs into the Caspian Sea in Azerbaijan. The Tovuz plant mainly breeds carp and bream fish.
Head specialist of the plant, Eldar Guliyev said the baby fish aka fingerling weight and size is being checked on a regular basis. When the weight reaches 5, 7, 10 grams, they will be released to the Shamkir water reservoir.
He explained that because of the fish's fertility cycle fishing in these months is not advisable.
Another fish breeding plant in the northern region, in Gabala, has released over 400,000 young salmons - a record breaking for the country. The plant also increased its production to support the salmon population in the Caspian Sea and the Kura.
This year, over 150,000 young salmons of 80-90 grams are expected to run out to the Sea and rivers in May.
The Caspian Sea with its rich natural resources is also home to about 141 other fish species. However, the decrease in fish population is now worrying all littoral states. There has been a tenfold decrease in the number of sprats and sturgeons in the Caspian Sea over the past years.
Azerbaijan is annually increasing its spending budget on breeding sturgeons, especially now that its population stands at a critical level.
Home to 80-85 percent of the world sturgeon, the Caspian Sea is now witnessing a sharp decrease of its fish species.
The main reason for the decline of the sturgeons in the Caspian Sea is primarily large-scale illegal fishing in the rivers and the sea. The Caspian states banned any industrial or commercial sturgeon fishing in the sea in 2014. Moreover, integrated pollution of the Caspian Sea for many years is also a worrying factor.
Earlier, the Zoology Institute of the Azerbaijan National Academy of Sciences has developed a concept for industrial breeding of sturgeon by innovative methods.
The creation of farms with a production capacity of 45 tons of sturgeons per year has been suggested as the first pilot project toward increasing the fish population. The creation of such facilities in the next five years will decrease the market value of sturgeon, which in turn will lead to the disappearance of poaching and will further lead to readdress balance and ultimately makes the Caspian Sea full of fish again.
--
Nigar Orujova is AzerNews's staff journalist, follow her on Twitter: @o_nigar
Follow us on Twitter @AzerNewsAz