25 December 2014 10:00 (UTC+04:00)
1 336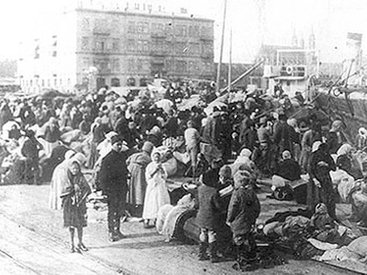 By Sara Rajabova
Armenia's aggression against Azerbaijan is not a new thing. Over the past years, Armenians have exposed Azerbaijanis to a number of misfortunes. They also thought out a plan to appropriate Azerbaijan's territories.
The deportation of Azerbaijanis from Armenia in 1948-1953 years is a vivid evidence of this approach. It was carried out against the will and wishes of the resettled people as itinterrupted the normal, habitual rhythm of life of tens of thousands of people, forcing them to get accustomed to new conditions.
The initiative of deportation, realized during the Soviet ruling, came from the Armenian leadership and was supported by Moscow.
The Armenian leadership of that time demanded the Soviet government the return of foreign Armenians to Soviet Armenia. The aim of this plan was to expand Armenia's borders not only at the expense of Turkish territories, but also neighboring Azerbaijan.
However, failing to occupy Turkish territories, the Armenian leadership put forth the idea to compensate their dashed hopes by expanding its territories through humiliation and violation of the rights of the Azerbaijani minority in Armenia. So, the problem of resettlement of the Azerbaijani population from Armenia to Azerbaijan was emerged. This led to the deportation of Azerbaijanis from Armenia.
Under the Soviet government's order, more than 100,000 Azerbaijanis were deprived of their native lands in 1948-1953.
The documents show that living on the native lands, where their ancestors lived over centuries, turned into a real tragedy. They were forced to live in difficult conditions. Some of the resettled, who could not withstand the distressing conditions died after the deportation.
During the execution of the decisions that were contrary to the ordinary law norms, the authoritarian-totalitarian regime's rules of repression was widely used, thousands of people, including the elderly and babies died because they could not put up with heavy deportation conditions, severe climatic changes, physical shocks and spiritual genocide.
Unfortunately, the fact of deportation of Azerbaijanis from Armenia in 1948-1953 hasn't been investigated well and these events haven't received appropriate political and legal assessments. The international community is still unaware of the scale of Azerbaijanis' tragedy in those years.
However, Azerbaijani people's plagues didn't come to an end with these events. The Armenians continued the deportation of Azerbaijani and their ethnic cleansing policy towards Azerbaijanis in late 1980s. Since January 1988, the Armenians started to implement their policy called "Armenia without Turks".
The expulsion of thousands of Azerbaijanis was accomplished by bloody actions of Armenian government. As a result of the ethnic cleansing, 250,000 Azerbaijanis were expelled from native lands. At that time, 216 people were savagely killed and subjected to horrible tortures.
After the expulsion of Azerbaijanis, Armenian turned into a mono-ethnic country. This comes as thousands of Armenians still live in Azerbaijan under normal conditions.
However, all these atrocities couldn't satisfy Armenians. They continued their policy of aggression with occupying the Azerbaijani territories in early 1990s.
Armenia occupied over 20 percent of Azerbaijan's internationally recognized territory, including Nagorno-Karabakh and seven adjacent regions, after laying territorial claims against its South Caucasus neighbor that caused a brutal war in the early 1990s.
As a result of the military aggression of Armenia, over 20,000 Azerbaijanis were killed, 4,866 are reported missing and almost 100,000 were injured, and 50,000 were disabled.
Long-standing efforts by U.S, Russian and French mediators have been largely fruitless so far.
The UN Security Council has passed four resolutions on Armenian withdrawal from the Azerbaijani territory, but they have not been enforced to this day.