Azerbaijan possesses sufficient funds for NGO financing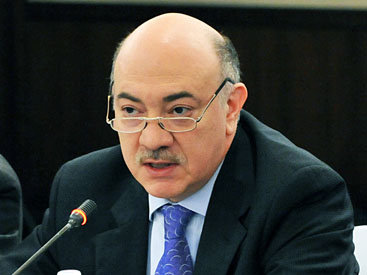 By Sara Rajabova
Only foreign organizations with official representation in Azerbaijan and entitled to act as donors will be able to offer grants to non-governmental organizations, according to amended legislation.
"The new amendment to the Law on Grants regulates the activity of non-governmental organizations," said Fuad Alasgarov, head of the Azerbaijani Presidential Administration's Department for Work with Law Enforcement Agencies.
"The transparency will be ensured in the allocation of grants to NGOs. Everybody will know the participants of this process and the purposes of the grant," Alasgarov noted in an interview with local newspaper.
NGOs have been active in Azerbaijan helping a country that gained its independence just a generation ago. The establishment of the Council of State Support to Non-Governmental Organizations has paved the way for new cooperation between the government and NGOs.
The Council of State Support to NGOs was established in accordance with a presidential decree on December 13, 2007.
Funds destined to help the NGO have been allocated by the government as well as foreign donor organizations.
But presently, Azerbaijan has sufficient funds for financing the NGOs, Alagarov said, adding that huge funds are allocated from the state budget for the development of the civil society and the media.
Alasgarov further noted that the Council of State Support to Non-Governmental Organizations allocates grants to NGOs for the implementation of various projects, adding that the amount of these grants increase every year.
"Five million manats (about $6.3 million) was allocated from the president's reserve fund upon the president's decree dated May 1, 2013 for the implementation of the Council's various projects," he said.
The council allocated over 3.4 million manats (about $4.3 million) for the local NGOs in 2013 and 2.7 million manats (about $ 3.4 million) in the first nine months of 2014, according to Alasgarov.
He added that grants are allocated by a total of around 20 organizations from the state budget.
"So, there are enough resources to finance the NGO projects from the domestic sources and each of over 4,000 NGOs operating in Azerbaijan can benefit from this," Alasgarov said. This gives ground to say that the allegations according to which the operation of NGOs is possible only by receiving grants from foreign donors have nothing to do with reality, he concluded.
Azerbaijan also allocates funds for realization of different projects in other countries around the world through various state institutions.
Alasgarov underlined that Azerbaijan as a donor country renders financial assistance to other countries and international organizations to fight against global threats.
"In 2014 alone, Azerbaijan allocated $1 million for the UN Global Fund to fight Ebola, about $600,000 to address the humanitarian crisis in Gaza, about $535,000 to assist refugees and IDPs in Serbia, around $1 million to different countries for humanitarian purposes and addressing natural disaster consequences," he added.
Alasgarov went on to say that in the past three years, the total amount of such aid amounted to $16 million.
"Azerbaijan allocates funds for realization of cultural and social projects, addressing humanitarian crises in European countries," he said.
Meanwhile, he stressed that Azerbaijan has sufficient financial resources, with which it is possible not only to finance the civil society institutions' activities in the country, but also to assist other states, what is being done today.
At the same time, Alasgarov pointed out that these activities rule out the interference into internal affairs of other countries.
"This aid is aimed not at interfering in internal affairs of these countries, but at being with them in solving global problems," Alasgarov said.
"I believe that the foreign donors should direct funds to address such global problems," Alasgarov said adding that they would have the opportunity to serve more important goals.