Ankara hosts Azerbaijan-Turkey Economic Commission's meeting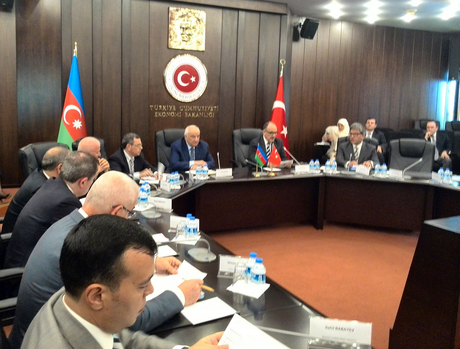 By Aynur Jafarova
Turkey's capital Ankara hosted the 7th meeting of Azerbaijan-Turkey Intergovernmental Joint Economic Commission on July 10-11.
Opening the event, Turkish Deputy Prime Minister and Co-chair of the commission Beshir Atalay spoke about works carried out since 6th meeting.
Azerbaijani Deputy Prime Minister, Co-chair of the commission and Head of the Azerbaijani delegation Abid Sharifov said the dynamic development of relations between the two countries was a result of their brotherly ties.
He expressed gratitude to Turkish government and people for supporting Azerbaijan's position on the Armenia-Azerbaijan Nagorno-Karabakh conflict and noted Azerbaijan would use every means to restore its internationally recognized territorial integrity.
The two co-chairs stressed that Baku-Tbilisi-Ceyhan oil and Baku-Tbilisi-Erzurum gas projects plays an important role in the economic development of the two countries.
They also spoke of the importance of Baku-Tbilisi-Kars railway project, and stressed the role of the Trans-Anatolian (TANAP) and Trans-Adriatic (TAP) gas pipeline projects in development of international economy and global energy security.
The meeting discussed the expansion of bilateral relations in economy, trade, science-industry, technology, energy, transport, communication, information technologies, agriculture, culture, tourism, environment, education, health and sports.
At the end of the event, the sides signed a protocol. On the sidelines of the event Sharifov met with Turkish Energy and Natural Resources Minister Taner Yildiz.
The sides exchanged views on economic relations, tangible results and prospects of energy cooperation.
Later, Sharifov met Turkish President Abdullah Gul.
President Gul praised development of fraternal relations between Azerbaijan and Turkey as a source of pride.
Sharifov highlighted the protocol signed and issues discussed during the 7th meeting of the joint commission.
Azerbaijan and Turkey's relations have always been strong due to their common culture and history and the mutual intelligibility of Turkish and Azerbaijani languages.
Turkey was the first country in the world to recognize Azerbaijan's independence in 1991 and has been a staunch supporter of Azerbaijan in its efforts to consolidate its independence, preserve its territorial integrity, and realize its economic potential that arises from the rich natural resources of the Caspian Sea.
The countries share a short 8 kilometer-border, with the Aras River separating Turkey from the Nakhchivan exclave.
Economic projects, jointly implemented by Azerbaijan and Turkey, are bringing these countries together and strengthening their cooperation. These two countries are connected by several important regional projects, including the Baku-Supsa, Baku-Tbilisi-Ceyhan oil pipelines, Baku-Tbilisi-Erzurum gas line, and TANAP.
Azerbaijan and Turkey's economies and cooperation have reached a high level. SOCAR is one of the world's most well-established oil companies, active in Turkey since May 30, 2008. SOCAR is involved in a number of major investment projects in Turkey, including the construction of TANAP, Star refinery, and others.