Legal employment among Azerbaijan's social policy priorities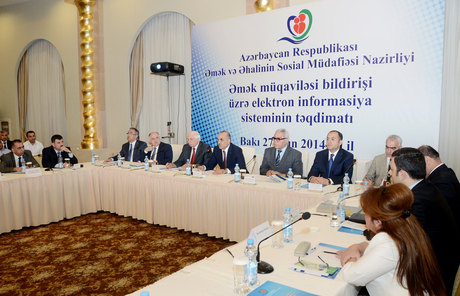 By Aynur Jafarova
Legalization of illegal employment is one of the main priorities of Azerbaijan's social policy, Labor and Social Protection of Population Minister, Salim Muslumov said while presenting an electronic information system of notification of the labor contracts on June 27.
"Protection of employers' rights is the main task of state bodies; it is one of the most important directions of the state policy," Muslumov noted.
He added Azerbaijan has made significant economic progress in recent years.
"The poverty level has successfully reduced from 50 to five percent. The unemployment rate has decreased significantly reaching to about five percent. Meanwhile the private sector's share in the employment increased from 68 to 74 percent," the minister said.
Muslumov said the launch of this system will make significant contribution to combating against illegal employment.
"Also, the implementation of this project will allow increasing the volume of revenues of the state budget, increasing the fees for compulsory social insurance and better protecting the rights of workers. Meanwhile, the integration of this system into the e-government portal will facilitate its use," Muslumov added.
In his remarks, Head of the Parliamentary Economic Policy Committee Ziyad Samadzade said labor productivity should become the main indicator of Azerbaijan's economic development.
"The Ministry of Labor and Social Protection of Population, as well as other government bodies involved in the implementation of the electronic system of registration of labor contracts did a significant work that will change the consciousness of society and will register the names of the employees everywhere. Yes, it will be difficult, because every entrepreneur is interested in reducing its expenditures. But at the same time, one should understand that with the increasing number of legal workers, the payments of compulsory social insurance will rise," he said. "The state budget revenues will increase, not because of increasing tax burden, but the number of taxpayers."
The labor contract and its termination are electronic documents of the employer that should be included in the electronic database of the Ministry of Labor and Social Protection of Population. The labor relations do not start with the conclusion of the labor contract, but on the date of registration of notification on labor contract in the electronic system.
After the employer registers a notification in the electronic system, he/she will receive the appropriate data within one working day. Also, by July 1, 2014, the employers should register notifications on labor contracts concluded before 2014. Otherwise, they would be fined in the amount ranging from 7,000 to 10,000 manats, or sentence to imprisonment up to three years.