Beach season kicks off in Azerbaijan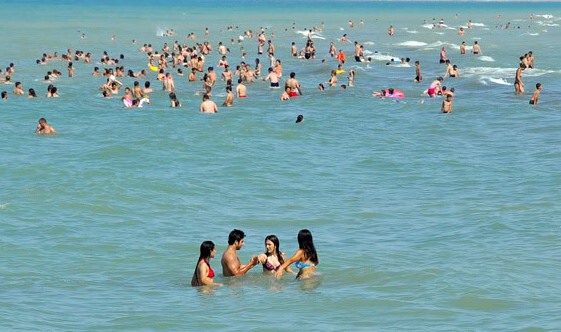 By Nigar Orujova
Beach season starts in the sunny Azerbaijan from June 8, although many people started it earlier this May because of the warm weather.
Mansur Piriyev from the State Water Rescue Service said the state service is working under heavy security.
He added, with deployment of more than 400 lifeguards and over 200 units of special equipment, the State Water Rescue Service will ensure security in Baku beaches. The beaches have already 42 saving stations.
"The stations work only at the officially registered beaches, but in case of necessity, lifeguards may also serve in other coastal areas," Piriyev said, stressing, that the service is operation 24 hours 365 days a year.
"Saving stations are situated on the Azerbaijan coast of the Caspian Sea, near the reservoirs, canals and lakes," he said. Moreover, four salvage groups are functioning as part of the State Service.
However, people should be still aware of the danger on water, which includes contra flows, undertows, ridges, as well as sunstrokes.
While resting at beaches, the banks of rivers and other water reservoirs, people should be more careful and swim only in the permitted areas and only at 9 - 12 a.m. and 4 - 7 p.m.
Unfortunately, four people have already lost their lives this year in Azerbaijan at the unregistered beaches and no swimming areas.
The State Water Rescue Service addressed the citizens, who prefer holidays at the seaside, calling them to use only the registered beaches, where ambulances are on duty from 9 a.m. until 8 p.m.
The ambulances are provided with all the necessary medicines, and devices for the first aids.
Health workers are on patrol of Bilga, Shih-2, Zagulba, Buzovna, Novkhani, Pirshagi, Nardaran, Turkan, Gobustan, Sahil (Qaradagh-1), Mardakan (Sahil-1), and Qaradagh (Lokbatan) registered beaches until the end of the swimming season on September 15.
The registered beaches have also information boards, which contain information about the structure of the seabed, the water depth and other essential information. Moreover, some 600 waterproof educational posters will be placed at the unregistered beaches.
Blurred waters
Notwithstanding the fact that the official season has opened, study of seawater on the beaches of Azerbaijan is not yet completed.
This was said by the Head of Department at the National Centre of Hygiene and Epidemiology, Ziyaddin Kazimov.
He said water samples were taken on the beaches of the Absheron Peninsula, the southern and northern parts of the country and the results will be available in the next few days.
Hopefully, the monitoring will approve the most part of beaches and Baku residents as well as tourists will safely enjoy the pleasant season.